Ahh, the Christmas week Wednesday release.
Detective Comics #860
Written by Greg Rucka
Art by JH Williams III
co-feature art by Cully Hamner
Cover by JH Williams III
Variant cover by Alex Ross
I've become rather taken with the new Batwoman character, and, certainly, Rucka and Williams are running hot on this book right now. The art is beautiful, and the story is snappy. When they first introduced this character, the whole push seemed to be about the fact that our new Batwoman was a lesbian. That was hardly interesting, to me. However, Rucka has proved adept at letting that fact be prevalent while not taking over the story. Excellent run.
Gotham City Sirens #7
Written by Paul Dini
Art and cover by Guillem March
This will, likely, be my last issue of this title. Unless this issue blows me away, I'll be dropping the book. Pretty much unheardof for me to drop a book written by Paul Dini, but this series just leaves me cold. I love Harley Quinn and Catwoman, Poison Ivy can certainly be used in interesting ways, but I don't think it's ever gelled. The art isn't even hitting me enough to keep it for the cheesecake factor.
Green Lantern #49
Written by Geoff Johns
Art and cover by Ed Benes
Variant cover by Rodolfo Migliari
Darkest Night
rolls on and on. The strands are there, and holding, but, on a whole, The Sinestro Corps War is going to be Geoff Johns' all-time great Green Lantern story, and Darkest Night will be the also-ran. That's not to say it's BAD, because it's not. I'm certainly involved and want to see the end. I guess I just expected more.


Captain America Reborn:
Who Will Wield the Shield #1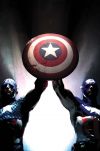 COVER BY: Gerald Parel
WRITER: Ed Brubaker
PENCILS: Butch Guice
INKS: Array
OK, so....
Captain America Reborn
is plowing along. I'm sure this one-shot will get pulled for me, and I'll probably just buy it. However....Who are they kidding? When Steve Rogers is back from the dead, he'll be Captain America. Steve Rogers IS Captain America, former sidekick Bucky Barnes is filling in, generating some decent stories, but if Steve is back to life and NOT Captain Ameirca, I'm done with this series, and probably the entirety of the mainstream Marvel line.