My apologies to all of your beautiful people that follow this blog. It's been a hell of a week, and I'm struggling with exhaustion, some stress, and looming "off book" deadline for
The Copperhead
.
Batman and Robin #21
$2.99
Written by PETER J. TOMASI
Art by PATRICK GLEASON & MICK GRAY
Cover by PATRICK GLEASON
1:10 Variant by GENE HA
The new regular creative team of writer Peter J. Tomasi and artist Patrick Gleason continue their run with "Dark Knight, White Knight" part 2 of 3!
Batman and Robin find themselves in the middle of a deadly crusade as "angels" continue falling from the skies! The White Knight is shining his heavenly light into the dark corners of Gotham City in his quest to vanquish the shadows of the soul…
So, I'm sitting here trying to remember what happened in the last issue, and drawing a complete blank.
Not a good sign.
Batman: Incorporated #3
$2.99
Written by GRANT MORRISON
Art by YANICK PAQUETTE & MICHAEL LACOMBE
Cover by DAVID FINCH & SCOTT WILLIAMS
1:25 Variant cover by J.H. WILLIAMS III



Batman and Catwoman travel to South America to reunite with Gaucho, Argentina's Batman Incorporated representative. But their trip may be cut short when an unexpected adversary sends things spiraling downward!
Waitaminute...weren't Bruce and Selina in Japan?
This is a book that should NOT work for me. I've never been a fan of the globe-trotting, psudo-James Bond version of Batman. Ra's Al Guhl notwithstanding, it's just a way of using the character that doesn't spark for me, plus this whole "Batman: Incorporated" idea still sticks.
So why did I enjoy the first two issues so much?
Taking another angle on this, let's give Morrison and Paquette a hand for going TWO WHOLE ISSUES before they feel behind by over a month. Way to go, guys! **rolls eyes**
Booster Gold #42
$2.99
Written by KEITH GIFFEN & J.M. DEMATTEIS
Art and cover by CHRIS BATISTA & RICH PERROTTA
He's managed to avoid paying the price for a loooooong time… but now a newly responsible Booster Gold is ready to step up and serve the time for a crime he committed in his misspent youth! A crime that pretty much created Booster to begin with!
I have this sneaking suspicion that this story will be the gold standard for the Giffen/DeMatteis run on this title. It's a great concept, and I have full confidence they'll do something fun with it.
It's funny. That word, "fun." I read a lot of comics because I am involved with the story, the whole soap opera intertwined universe bullshit. And a lot because they're just flat-out cool, like
Jonah Hex
. The sad thing that just hit me is how few I read because they're just fun to read. I could probably count 'em on one hand.
Ultimate Comics Spider-Man #155
$3.99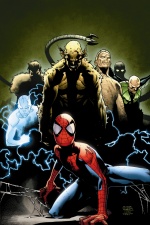 THE END STARTS HERE! The Death of Spider-Man prologue!! THE most talked about story of the year begins!! Peter Parker has gathered his most eclectic group of friends and family in the world. In this very special issue we will discover some shocking secrets that will either pull them closer together or push them apart forever. Welcome to Spider-Man stories you have never read before. Welcome to the beginning of the end of what you know to be Ultimate Spider-Man. And welcome fan-favorite Chris Samnee as he makes his Ultimate Universe debut!
Did I say "fun?"
Yeah Ultimate Spidey falls squarely in that category, as well. Bendis never fails to deliver. But when is Bagley returning?!?!