First New Comics of the New Year! LET'S GO!!!
Brightest Day #17
$2.99
Written by GEOFF JOHNS & PETER J. TOMASI
Art by IVAN REIS, PATRICK GLEASON,
ARDIAN SYAF, SCOTT CLARK & JOE PRADO
Covers by DAVID FINCH & SCOTT WILLIAMS
Variant cover by IVAN REIS & OCLAIR ALBERT
1:10 Variant covers by IVAN REIS
Hawkman and Hawkgirl pay a visit to the Star Sapphires, but with the Hawks' connection to the cosmic corps, it looks like this meeting may end in bloodshed. And more even more blood may be drawn as Captain Boomerang hunts down Deadman and Dove!
Ah, well there goes my big, exciting welcome to the new year.
We're past the halfway point, anyway, right? I was excited that the last issues managed to finally bring Aquaman back into the fold. I dunno, now that there's only nine issues left, maybe things will start happening, huh? Maybe?
Jonah Hex #63
$2.99
Written by JUSTIN GRAY & JIMMY PALMIOTTI
Art and cover by JORDI BERNET
Jonah Hex has dealt with some wicked, vile people in his time, but never has he met someone who managed to get under his skin quite like the bandit known as Loco. Most bounties don't upset Hex, but this time, as they say, it's personal. And a pivotal piece of Hex's past is revealed in this special stand-alone story!
Um, isn't the whole deal with this series that they're all stand-alone stories?
Doesn't matter. Again, the most wonderfully consistent series on the shelf. Always worth a read, especially when Jordi Bernet is on the case with the art. Very happy, always, to have a new issue of
Jonah Hex
to thumb through.
Ultimate Comics Captain America #1 (of 4)
$3.99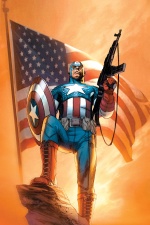 Written by Jason Aaron
Pencils & Cover by Ron Garney
Villian Variant Cover by Ed McGuinness
The Super Soldier project was a secret and mysterious undertaking that took a frail young man named Steve Rogers and forged him into the Captain America of World War II…but Rogers wasn't the only one to emerge from the program. Enter the Captain America of the Vietnam War! Prepare for a battle between two Captain Americas…and only one living legend is walking away!
Well, I've pretty much unloaded all of the Ultimate books, except
Ultimate Comics Spider-Man
, and
Ultimates
. However, I'm a big fan of Cap, and so I'll give this a chance. Clearly, the corporate synergy machine is starting to turn for the film coming out this summer.
I gotta say, and I think I may be the only person in the world that feels this way, the stuff from the
Thor
movie leaves me cold, but
Captain America: The First Avenger
makes me excited. Maybe it's Joe Johnston being at the helm. Maybe it's the WWII setting. I dunno, but the film looks good to me.