So, saw Springsteen on Sunday. For the first time, got close enough to touch him.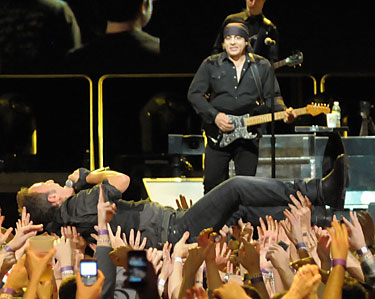 Twice right before this moment, during "Hungry Heart"...I helped catch him when the crowd surf began, and moments before that I touched his foot. Then at the end of the show, during "Higher and Higher," I got a good arm/back pat, and a fist bump from Soozie Tyrell (fiddle). CByrd got a good, solid pat on the back, and a nice bit of "Boss sweat."
I was sticking my hand up there, valiantly, praying that he would just take my hand for a second. Justa moment when he might acknowledge me for a second. Alas, I didn't get lucky. There was a very nice couple on the other side of the rail from us (we made it into the pit, again - three for three - lucky us! They were on the regular GA side), who got a kiss on the hand, and was wiping away tears after. I gave her a big thumbs up, she was so happy.
The show itself turned out to be quite powerful. I've been on record as being a bit disappointed that the album-in-full that evening was to be
Born to Run
, simply because I'd already seen that at the United Center in Chicago in Spetember. That being said...it's quite different being in the pit, compared to the rafters.
Oh, and lady in the 100 level on the stage right side, with the "Jungleland" request sign...I just....
**shakes head**
....When they say they're playing the "whole album," that means all the songs on that album. Just FYI.
Born to Run
, as a whole, was, of course, amazing, but we also got a ton of rarities in the request section. Seeing "Living Proof" come off the shelf, for a man in the pit who'd had his fist son 2 weeks prior, was worth everything. Especailly when the band simply did not know it, being from that "other band" period of the early 90's. I truly hope that this might encourage Bruce to revisit some of theose
Human Touch
and
Lucky Town
tracks...there's some fantastic songs in there.
I can't say I ever really wanted to hear "Santa Claus is Comin' to Town," and was a little annoyed by all the signs for it. I'm with Bruce, it's "too early," but he played it anyway, and it was fun. Another one I can check off the "seen it live" list. The Christmas tree sign he brought up during the song was downright impressive. Five feet tall with battery-operated lights.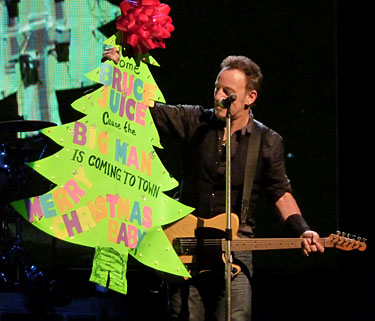 "Jole Blon," "Loose Ends," and, my favorite Bruce song ever, "Growin' Up," were all amazing. The show was so high-energy after
Born to Run
wrapped up, it was kinda hard to keep up. My throat still hurts today from screaming and singing along. There was all sorts of fun on display, several jokes about where we were, in refrence to his faux pas in Michigan...
"Hello Ohio! Aw, I'm just fucking with ya!"
"Don't worry, I'm on my meds tonight!"
"Kitty's Back" was amazing, but, if you ask me, went on a little long.
During "Dancing in the Dark," the usual dance partner request signs went up...but one caught Bruce's eye...asking for a dance with Little Steven Van Zant. Stevie begged off, but Bruce was leaving no chance to embarass the band unturned...and what followed was a pretty painful example of Stevie's lack of dancing skill. He didn't really dance WITH her, more like kind of in the same area...LOL. I've never seen a more horrifying "mashed potato" in my life. Love ya, Little Steven!
"Higher and Higher" was a tremendous way to wrap up the show and gave a real spotlight to backup singers Cindy Mizelle and Curtis King.
The show ran about three hours fifteen, which, I think, makes it the longest Springsteen show for myself, personally. Bruce was on fire, and I thing the impending end of the tour (4 to go), and break from the E-Streeters for, I'm betting, a year at least, was driving him to send this tour off on a powerful note, and he did it.
Setlist:
Cadillac Ranch
Badlands
Hungry Heart
Working on a Dream

Thunder Road
Tenth Avenue Freeze-out (with Curt Ramm on trumpet)
Night
Backstreets
Born to Run
She's the One
Meeting Across the River (with Curt Ramm)
Jungleland

Darlington County
Waitin' on a Sunny Day
Santa Claus is Comin' to Town
Loose Ends
Jole Blon
Growin' Up
Into the Fire
The Rising
No Surrender
* * *

Living Proof
Kitty's Back (with Curt Ramm)
American Land (with Curt Ramm)

Dancing in the Dark
Rosalita (with Curt Ramm)
Higher and Higher (with Curt Ramm)