Oh boy...big week. Should'a seen it coming, with the last several weeks being fairly light
Batman and Robin #15
($2.99)
Written by GRANT MORRISON
Art by FRAZER IRVING
Cover by FRANK QUITELY
1:25 variant cover by FRAZER IRVING
In the final chapter of "Batman Must Die," all is lost and everything has gone to pieces! Is Dick Grayson alive? Will Damian make a pact with the devil? And what will happen after the final confrontation with Dr. Hurt?
So, we're hurtling toward the return of Bruce Wayne. I'm really hoping they keep this title active. I'm sure they will, what with Bruce apparently trotting the globe in
Batman, Inc.
setting up international "Batman Franchises" like some sort of crime-fighting McDonalds, leaving Gotham City to Dick and Damian.
God, I wish they'd take Grant Morrison off the Batman titles...put him on
Justice League
, for God's sake..He's already proved he's made for that.
Brightest Day #12
($2.99)
Written by GEOFF JOHNS
and PETER J. TOMASI
Art by IVAN REIS, PAT GLEASON
ARDIAN SYAF, SCOTT CLARK
and JOE PRADO
Cover by DAVID FINCH
1:10 Variant covers by IVAN REIS
Don't miss the hottest event in comics as the biweekly BRIGHTEST DAY continues with the return of the Black Lanterns! Has time run out for our resurrected heroes? Plus, you must not miss the stunning origin of the new Aqualad, the battle between Aquaman and Black Manta, and the bizarre journey of Jason Rusch and Ronnie Raymond as they delve into the inner workings of the Firestorm matrix and uncover its secret!
So, here we are, twelve issues into a series that, I still say, could've been wrapped up in a 5-6 issue mini-series. I dunno what to say anymore, honestly. I am interested, otherwise I wouldn't be buying it, but fer Christ's sake, can't we move it along a bit? At every point where I feel like we're set up to resolve something, they cut away to another story, and, when they finally cut back...start building again.
Tell the story, let it be as long as it needs to be. Then END it. This did not need to be, in any way, a year-long bi-weekly.
Justice League of America #50
($4.99)
Written by JAMES ROBINSON
Art by MARK BAGLEY
with POW RODRIX
and ROB HUNTER
and NORM RAPMUND
Gatefold cover by ETHAN VAN SCIVER
1:75 "DC 75th Anniversary" Variant cover
by JIM LEE
1:10 Variant cover by MARK BAGLEY
Jade is plagued by the remanants of the Black Lantern, and Dr. Impossible and his group's machinations unleash the Crime Syndicate upon the JLA's Earth as BRIGHTEST DAY continues shining! What are their true plans? And can the World's Greatest Heroes handle these evil incarnations – or is the entire Multiverse doomed?
It's "do or die" time for this title. I'm sticking to my guns, if #50 isn't a home run, or at least a solid triple, I'm out. It pains me to drop a title Mark Bagley is drawing, but this book has been so, just...nothing.
Justice League
ought to be a flagship title for DC, it ought to be a place for the top characters in huge stories, but it's just been hamstrung, left and right, by these stupid crossovers. Then when Dwayne Duffie dared to actually admit that point, which we all knew anyway, they fired him. Stupid. This could be a top-notch title. Bagley is the right artist for it, but Robinson is not the writer, and you need to let the "big guns" out to be part of it. This title reeks of mediocrity, because DC Editorial won't let it be anything else.
The Spirit #7
($3.99)
Written by DAVID HINE
Co-feature written by JAN STRNAD
Art by MORITAT
Co-feature art by RICHARD CORBEN
Cover by LADRÖNN
"Frostbite" concludes with all-out gang war in the streets! Just how far will the Octopus go to take back control? You won't believe your eyes – and neither will the man on the receiving end of the Octopus's fury!
And in the SPIRIT: BLACK and WHITE co-feature, Jan Strnad and Richard Corben bring you a Halloween treat – Central City's favorite dead man battling a werewolf!
I'm really liking this new "Next Wave" version of
The Spirit
, mainly because it really seems to have nothing to do with the rest of the atrocious "Next Wave" titles. Seriously, DC should be embarrassed to have published the first two issues of Doc Savage. The main teams have found a nice way to keep the "classic" Spirit feel, while being obviously modern, as opposed to the highly-stylized world that Darwyn Cooke created for the character in the last series.
You also have the excellent "Black and White" tales as a back-up feature. Top-notch teams playing with Will Eisner's creation with no continuity restrictions. This is one back-up feature I'm going to be very sad to see go when DC drops the $3.99 price point.
The Stand: Hardcases #4
($3.99)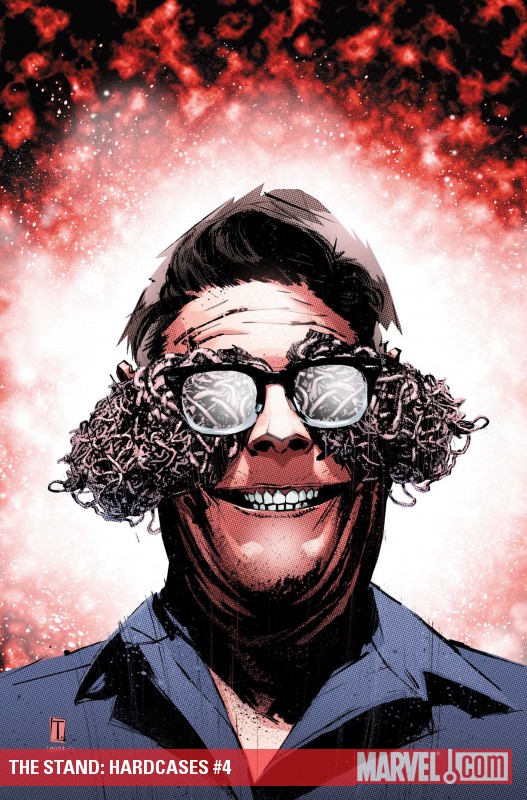 COVER BY: THOMAS LEWIS COKER
PENCILS: MICHAEL PERKINS
INKS: MICHAEL PERKINS
COLORED BY: LAURA JEAN MARTIN
LETTERED BY: NEUROTIC CARTOONIST, INC
In a house in the newly established Boulder Free Zone, behind closed doors, seven soul survivors are holding a clandestine meeting. Their agenda: Saving a disease-decimated country and protecting themselves against the threat of the dark man. But what are they missing? Harold Lauder, who is biding his time and plotting his revenge... And Mother Abagail, who is having a crisis of faith and coming face-to-face with her personal demons... Hold your breath and say your prayers, True Believers, as we head towards the final conflict!
The quite good adaptation of Stephen King's novel continues. Again, all I can really say is, if you're a fan of the book, it's worth a read. Quite enjoying it.
Ultimate Comics New Ultimates #4
($3.99)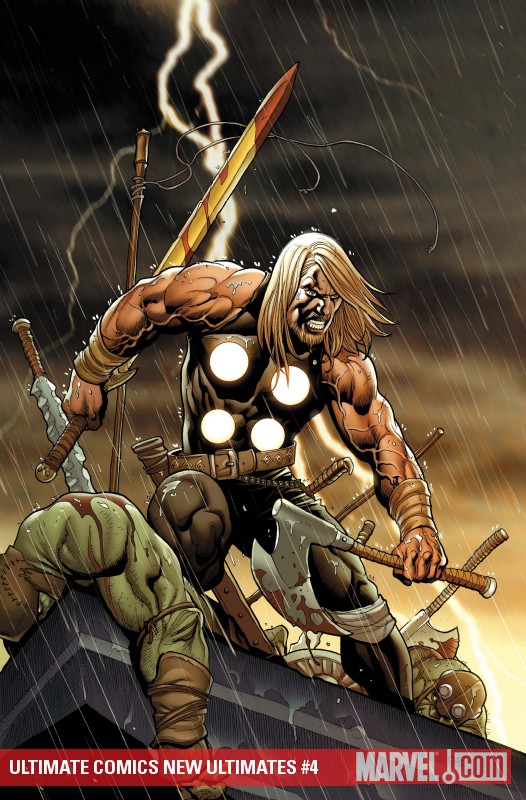 COVER BY: FRANK CHO
WRITER: JEPH LOEB
PENCILS: FRANK CHO
INKS: FRANK CHO
COLORED BY: JASON KEITH
LETTERED BY: RICHARD STARKINGS
Thor's reborn and on a rampage! Finally freed from Hela's clutches, Thor reunites with his teammates only to discover Loki's wicked betrayal. How will the Ultimates be able to stop an Asgardian gone wild? Join superstars JEPH LOEB and FRANK CHO as Thor makes a thunderous return to the Ultimate Universe!
I'm actually surprised to see this issue, it's been so long since the last. I mean, it's not unexpected, Cho is notoriously slow, but the results are usually quite spectacular. Now, I just have to remind myself of what, exactly, is going on in this series. Times like these I wonder if waiting for the trade isn't the smartest choice.
And from the "Maybe" file:
Ragman: Suit of Souls #1
($3.99)
Written by CHRISTOS N. GAGE
Art by STEPHEN SEGOVIA
Cover by JESUS SAIZ
Rory Regan has long struggled to reconcile the burden he carries as the Ragman, protector of society's forgotten, with his own strained faith.
Could the souls he has consigned to redeem themselves within his mystic suit have the answers he needs about what lies beyond — and about the mysteries kept from him by his own father? Christos Gage (STORMWATCH: PHD, Avengers: The Initiative) and Stephen Segovia (Wolverine) provide a look inside one of the DCU's most peculiar Super Heroes in this standalone one-shot!
Huge
Ragman
fan from way back. A deliciously weird concept, with a heaping helping of Jewish mysticism. With this being a one-shot, I am likely to pick it up, but I'll probably thumb through it before making the call.