Only 3 today. I have to say, I'm relieved that both DC and Marvel have announced that the $3.99 price point is going the way of the Dodo....EVENTUALLY.
Detective Comics #870
($3.99)
Written by DAVID HINE
Art by SCOTT MCDANIEL
and ANDY OWENS
Cover by PETER NGUYEN
The battle lines have been drawn. The insane Impostor Joker will lead his army of Jokerz against the imposing Impostor Batman and his Guardian Bats – and the battleground will be the Gotham City World's Fair. The only hope Gotham has is The Dark Knight himself, but can even Batman stop both Impostors before more blood is shed? All will be revealed, including the mystery behind the Impostors, in this shocking and horrifying conclusion to "Batman: Impostors"!
Well, as I've said, this isn't the most original story, borrowing liberally from Chris Nolan's Batman films, and Frank Miller's The Dark Knight Returns, but, once again, I tell you. David Hine is doing it well. The storytelling is rock-solid, and I'm dying to see how this story wraps up. Also, Peter Nguyen has become one of the best cover artists in the business. That's a solid piece of work, there.
Captain America #611
($3.99)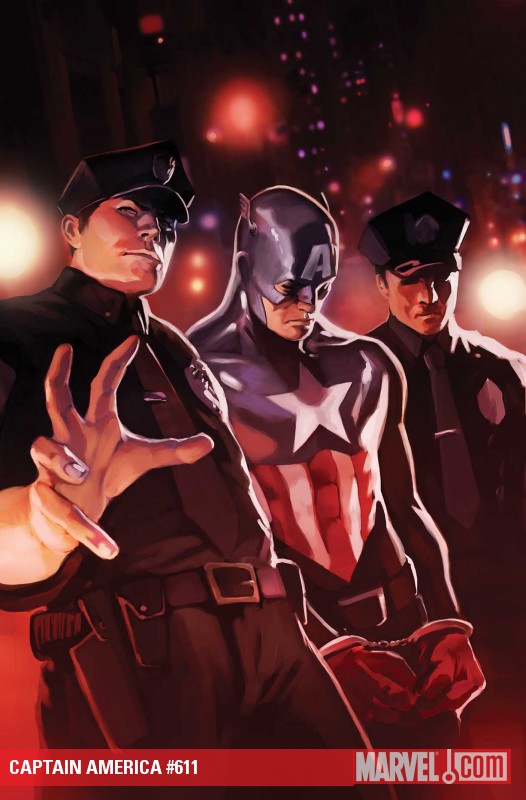 COVER BY: MARKO DJURDJEVIC
WRITER: ED BRUBAKER
SEAN MCKEEVER
PENCILS: FILIPE DANIEL MORENO DE ANDRADE
Daniel Acuna
INKS: RICHARD MAGYAR
COLORED BY: DEAN V. WHITE
LETTERED BY: NEUROTIC CARTOONIST, INC
The Trial of Captain America begins here! Nothing will ever be the same again, and this time we mean it. Award-winning writer Ed Brubaker and acclaimed artist Butch Guice continue to take Captain America to new heights!
Does this mean we're going to get rid of Bucky, and get Steve Rogers back in the costume where he belongs? Hmmm....Nah, I guess there's still nine months before the movie comes out.
Y'know, it's not that I hate Bucky. His run as Cap has been interesting and well written. It's just that
Captain America: Reborn
sucked ass, and then didn't even deliver what was promised.
Ultimate Comics Spider-Man #15
($3.99)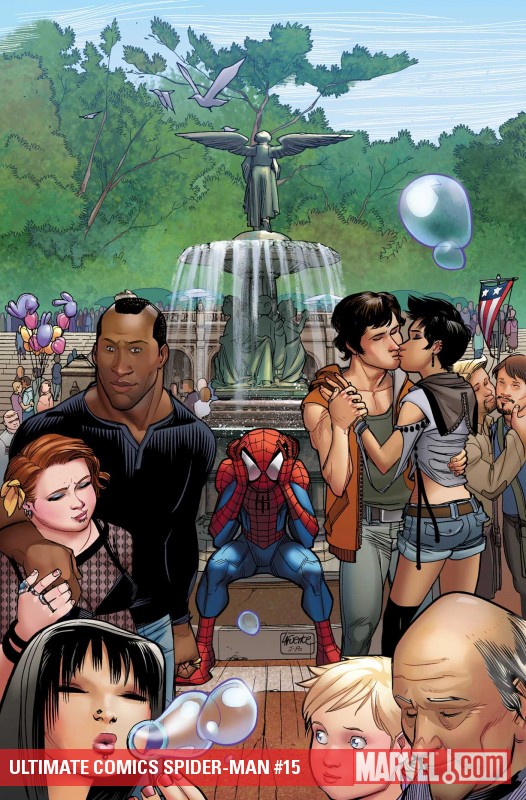 COVER BY: DAVID LAFUENTE GARCIA
WRITER: BRIAN MICHAEL BENDIS
PENCILS: SARA PICHELLI
INKS: SARA PICHELLI
COLORED BY: JAYPO LLC
LETTERED BY: NEUROTIC CARTOONIST, INC
Poor Peter Parker. All his friends hate him, his girlfriend has stopped speaking to him and to top it off, the whole world despises Spider-Man. What's a dude to do?? How about save the world and maybe meet the new love of his life? Fan-favorite BRIAN MICHAEL BENDIS (NEW AVENGERS) and rising Ultimate sensation, SARA PICHELLI (RUNAWAYS) bring you a new and exciting Spider-Man story you don't want to miss!!
So, let's see...Bendis, you seem to have undone everything that was imposed on your series during that God-Awful Ultimatum "event" mini-series. You've also done it while upending the status quo on your series in new and vastly interesting ways. Good job, Brian.
God, I am dying to know what's going to happen now that Jonah Jameson knows Peter is Spider-Man. Yeah, that's a spoiler, but the book came out a month ago...if you cared that much, you'd have read that damn thing.