One of the offshoots of my Kindle ownership is real rebirth of my love of Rock biographies or autobiographies. I ate up
Mustaine: A Heavy Metal Memoir by Dave Mustaine
, and I have
a couple others
on the wishlist
,
right now
. I've been working on series books recently, specifically
Dennis Lehane's Kenzie and Gennaro novels
(good stuff - LOVE the characters), and the rock books have been good "palate cleansers" between each mystery.
I'm a Guns N' Roses fan. So much so that I've even entertained seeing
Axl Rose's new version of the band when they play Allstate Arena next week
. Yes, I know, I'm supposed to hate
Chinese Democracy,
but I don't. Sue me. I do know, in my heart of hearts, that's not REALLY Guns N' Roses. Guns N' Roses was five crazy, committed kids that joined up in Los Angeles and changed the face of rock. They really did, they weren't your run-of-the-mill glam hair metal band. They were something really different, dangerous, and , I really believe they laid the groundwork that allowed for the acceptance of Grunge a few years later.
You can argue the fact. No worries. Just my opinion.
Duff McKagan was there. Guns N" Roses original bassist was actually from Seattle, and part of the punk movement there that eventually morphed into Grunge. He was actually roommates with Mother Love Bone's doomed singer Andrew Wood. McKagan forms the living link between what was happening in Seattle, and the eruption in LA that effectively killed the "safe" glam acts.
As with most people who live in interesting times, and do interesting things, McKagan has put pen to paper and written a book about it,
It's So Easy (and Other Lies)
. Now, I've read Slash's book, I'm really not interested in reading Steven Adler's, and it's unlikely that either Izzy Stradlin or Axl Rose will ever tell their stories. So, really, I feel like, as far as first-person accounts, this is about as good as we're going to get.
I couldn't help but compare Duff's book to Slash's, it's inevitable. Slash spends much more time detailing life as an addict, and there's quite a bit more salacious content there. Duff, frankly, comes off as a tremendously centered guy, but also well aware of how fucking hard it was for him to get there. He's also very aware of his fallibility. He spends time making it clear that he simply cannot, ever, drink alcohol again. Thing is, I think he's far more interested in sharing how he got to where he is now, rather than wallowing in where he was.
Which isn't to say he hides from his past. Oh, no, he does an excellent job of explaining his cycle of addiction. Booze, then coke to bring him back up, then booze to take him back down, rinse, repeat. He did do heroin, not to mention crack, but shied away from injecting. Preferring to place a bit on the end of a cigarette, and smoke it that way.
Then
So, yeah the rock and roll excess is there, and the stories of friends taken way too early. Yet, he spends much more time exploring his own rehab process. "Good pain," as he calls it, bicycling, kickboxing and meditation. He, literally, it seems, exercised himself out of abuse. He even talks about, upon returning to LA after cleaning up, the rumor was he's had a facelift and liposuction. Certainly, Duff is one of those guys who wore his excess on his face. Running sores, and the whole bit.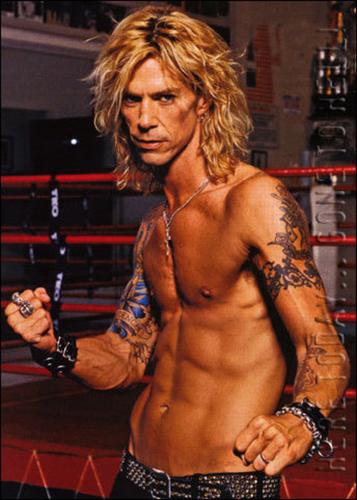 Now
The transformation is striking, and it's more than just physical. You really get an image of McKagan as a bit of a lost soul. Just in love with the idea of being in a band, and 100% committed to it when it happened. He relates stories of listening to a crowd chant "bullshit," waiting for a show already hours late, with Axl Rose not even in the city. Trying to drown the embarrassment, acutely aware the HIS BAND WAS LETTING THEIR FANS DOWN, in booze, then coke, then boozed. Rinse. Repeat. then berating himself for not calling a band meeting, or making some effort to put things back on track.
Mostly, I got a sense of a guy who's just pretty normal. The book starts with Duff discovering two kids making out a groping during his daughter's thirteenth birthday party. He freezes, and wonders what else the kids might be doing, rattling off a litany of "questionable" activities he's indulged by his teen years. It's an endearing way to begin, and it's only strengthened as we follow him in his work to earn a Bachelor's Degree in Business. He recounts leaving a Velvet Revolver show in a limo, and taking the time to call a professor with a question about some on-line course....
"Duff who?!?" is the instructor's response, and you get the sense McKagan reveled in it.
It's a good read. It reminded me of the
Rush: Beyond the Lighted Stage
documentary, in that Duff really does feel like a regular joe. There may be mythologizing going on here. If anything, it's in the sense that McKagan had goals, be it in Rock and Roll, getting clean and sober, or trying to gain an education, and he applied himself, and worked to accomplish them. It's listening to stories from a colorful guy who did some stupid shit, but now has his head on straight.
That's pretty cool, to me.