Another light week...I feel the impending onslaught of a 10-title week...
Batman And Robin #8
Written by Grant Morrison
Art and Variant covers by Cameron Stewart
Covers by Frank Quitely
Well, after all the delays and missed dates on
Final Crisis
, somebody must have something to prove...The last issues was only 2 weeks ago! All kidding aside, as I've been saying, this is a top-notch title. Morrison has hit his stride with Dick Grayson's less-grim, more light-hearted Batman. The series is just plain fun.
Ultimate Comics Spider-Man #7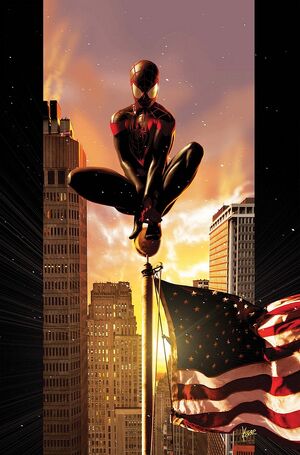 Written by Brian Michael Bendis
Penciled by Takeshi Miyazawa
Cover by David LaFuente
I'm charmed by the new direction for Ultimate Spidey...Or, "Aunt May's Home for Wayward Teen Super-Heroes." It's great fun to see Peter living with Johnny "Human Torch" Storm, and Bobby "Iceman" Drake as siblings...along with Kitty "uhhh..." Pryde down the street. Now, that said...I really hope this new supporting cast doesn't unbalance the series. However, I always give Bendis the benefit of the doubt with this series, he almost always nails it.
Jon Sable: Freelance - The Ashes of Eden #5
Written and Art by Mike Grell
OK, this one has never been on my weekly list, but I always buy it. Frankly, it just always sneaks up on me. Jon Sable has been a favorite of mine since the 80's. Grell's creation is a wonderful espionage/detective character.
Read up on him here
. I've always said that this character is a tremendous film franchise, in the spirit of the recent Bond films, just waiting to happen. I know I'd love to put on his trademark war paint. (Yep...actor ego in play, there..Surprised it doesn't happen more often)
This mini-series is actually a hard-copy printing of a webcomic series Grell did a couple years ago.
You can find the webcomic version here
.