What did I say last week? 10-title week?
So close to that, my wallet hurts.


Batman #696
Written by Tony Daniel
Art by Tony Daniel and Sandu Florea
Cover by Tony Daniel
Daniel has proven very adept at running this title without really doing anything spectacular. It seems like everyone knew that the eyes would be on Morrison over in
Batman And Robin
, so they just needed somebody to "mind the store." His art is very nice, and the writing is solid. No complaints, but nothing amazing.
Batman: Streets of Gotham #9
Written by Paul Dini
co-feature written by Marc Andreyko
Art by Dustin Nguyen and Derek Fridolfs
co-feature art by Jeremy Haun
Cover by Dustin Nguyen
Dini's back after an issue off. He and Nguyen have formed a solid, workmanlike team, and they get the job done with style and wit. The quality ebbs and flows from issue to issue, but it never drops below the baseline, and it sometimes can be stunningly good.
Blackest Night: The Flash #3
Written by Geoff Johns
Art and cover by Scott Kolins
Variant cover by Francis Manapul
Time to be blunt...This series is better than
Flash:Rebirth
, and Scott Kolins is kicking Van Sciver's butt in the art department. I don't even care how that mini-series is going to end at this point, and every time Van Sciver posts some inane video or right-wing propaganda on facebook, I think, "shouldn't you be drawing?"
Which has nothing to do with this mini-series, which is quite good.
Green Lantern #51
Written by Geoff Johns
Art and cover by Doug Mahnke & Christian Alamy
Variant cover by Greg Horn
Blackest Night
continues...Again, enjoying it, but I think I'm ready to start wrapping this up. Hal's possessed by Parallax again, and we'll see how that turns out.
Justice League of America #42
Written by James Robinson
Art and cover by Mark Bagley and Rob Hunter
Variant cover by Adrian Melo and Mariah Benes
Just keep repeating "Robinson and Bagley will turn this around. Robinson and Bagley will turn this around. Robinson and Bagley will turn this around."
Maybe it'll come true.
Power Girl #9
Written by Jimmy Palmiotti and Justin Gray
Art and cover by Amanda Conner
The joyful read of the week. Superhero comic books at their best, fun, sexy and a bit cheesy. I'm so happy to have Amanda Conner drawing Karen Starr on a monthly basis. So many people claim to be trying for a "sliver age feel," and it just comes off as a little too precious and aware. This team has captured how to have the same energy and feel of those insane silver age stories, while still feeling fresh and modern. Great stuff.
Captain America #603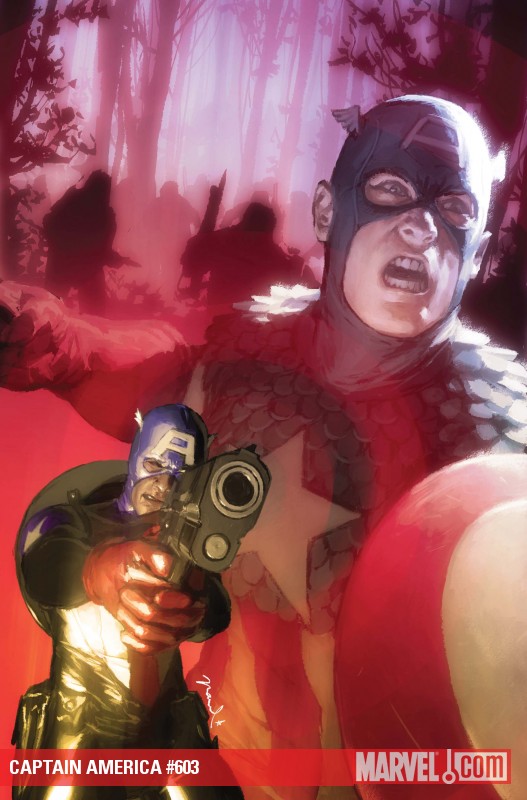 COVER BY: Gerald Parel
DEADPOOL VARIANT COVER BY: Gerald Parel
WRITER: Ed Brubaker
PENCILS: Luke Ross
INKS: Array
Ah, me...I used to love this series a lot. It was the lone mainstream Marvel title I could say I was reading an enjoying. Then
Captain America: Reborn
happened. That mini was such a botch, on so many levels, that I can't even explain. It's tainted the series for me. Is it my expectation that Steve Rogers would be back as Captain America being thwarted? Possibly, mainly because you KNOW when the movie hits in 2012, corporate synergy obsessed Marvel couldn't bear to have Rodgers out of the costume....
The Stand: Soul Survivors #4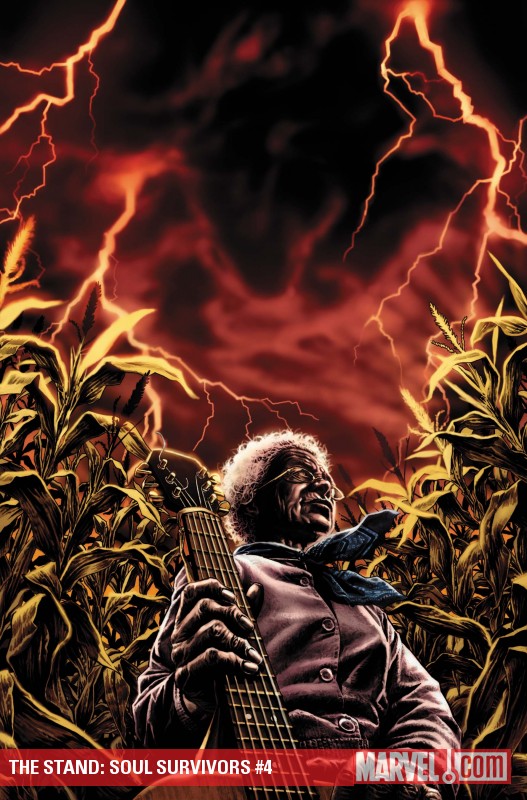 COVER BY: Lee Bermejo
VARIANT COVER BY: Mike Perkins
WRITER: Roberto Aguirre-Sacasa
PENCILS: Mike Perkins
INKS: Array
If you like the novel, you should like this series. It's a very well-executed adaptation, and I've enjoyed it all so far. If you don't like the novel, or King...nothing for you here, move along.
Buckaroo Banzai: Hardest of the Hard #2
Written by Earl Mac Rauch
Art by Shawn Van Briesen
I love the movie
The Adventures of Buckaroo Banzai: Across the 8th Dimension
. It's a film that I saw 2 times on the day it was released, just sat in the theatre, pretty much alone, for two showings. These comics absolutely get the story and characters right, as they're written by original screenwriter Earl Mac Rauch, but the art can swing from passable to poor. Moonstone isn't a hotbed of art talent, apparently. However, I'll be coming back for the story, and the continuing adventures of my favorite rock star/surgeon/race car drive/physicist.
Let's take a moment to look at one other thing about these titles...six of the nine have something in common that I hoped we'd left behind in the 90's.
VARIANT COVERS....
Thank you, comic industry, for trying to suck more and more money out of the pockets of your loyal, but dwindling, fanbase by getting to buy the SAME BOOK twice, or even three times!