Extremely light week last week, with only 2 titles, so, of course, bigger hit to the wallet this week.
as a new "feature" I'll be including the official solicitation copy for each of these issues, as well. This will be in
Red
.
Batman: Streets of Gotham #10
Written by PAUL DINI
Co-feature written by MARC ANDREYKO
Art by DUSTIN NGUYEN and DEREK FRIDOLFS
Co-feature Art by JEREMY HAUN
Cover by DUSTIN NGUYEN
It's Batman, Robin and Abuse struggling against the deadly clutches of Mr. Zsasz. With the lives of kidnapped children at stake, it's up to Gotham City's finest heroes to save the day. And in the Manhunter co-feature, Two-Face's trial comes to a surprising end as a new trial starts! Can Kate balance all of that with her need to spend time as Manhunter? And what's Kate's son Ramsey doing in Gotham?!
Likely another solid issue of a solid book. Dini's work is shining here, I just really wish we'd see some of this over on Gotham City Sirens. (I REALLY need to drop that book.)
Green Lantern #52
Written by GEOFF JOHNS
Art and Cover by DOUG MAHNKE and CHRISTIAN ALAMY
1:25 Variant Cover by SHANE DAVIS and SANDRA HOPE
BLACKEST NIGHT'S penultimate chapter is here, and you do not want to miss this issue. Trust us on this one.


Penultimate, huh? This is a classic example of the solicit that tells you nothing, because you're buying the book anyway.
I'm more excited to see what happens AFTER

Blackest Night

, at this point.


Power Girl #10
Written by JIMMY PALMIOTTI and JUSTIN GRAY
Art and Cover by AMANDA CONNER
Power Girl squares off against Satanna and her Animal Army just as Terra enters the fray! This should be a good thing, but somehow it looks like Power Girl's got a new enemy!
This issues strikes me as a bit bittersweet, because it was recently announced that the creative team will be leaving with issue #12. I'll be honest, one year with Palmiotti, Gray and Conner's
Power Girl
is not enough. Not by a long shot...
However, when Palmiotti and Gray eventually leave
Jonah Hex
, I'll proclaim a day of mourning.
Captain America #604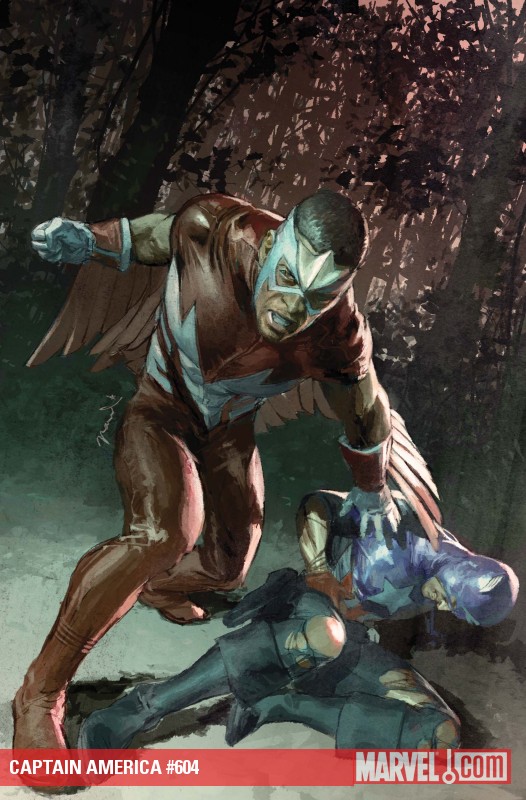 COVER BY: Gerald Parel
WRITER: Ed Brubaker & Sean McKeever
PENCILS: David Baldeon & Luke Ross
INKS: MK - Andy Kubert & James Raiz
COLORED BY: Jeff Parker & James Raiz
LETTERED BY: Jason Paz
The penultimate chapter of TWO AMERICAS! As two Captain Americas clash in the heartland, the Falcon fights to stop a terrorist attack on American soil by the new Watchdogs! Plus, Nomad: Girl Without A World back-up by SEAN MCKEEVER and DAVID BALDEON.
This series is trying my patience. Steve Rogers is back, and I want Steve Rogers as Captain America, not Bucky Barnes. Brubaker is still telling snappy espionage tales, but...I dunno, I want some of that rah-rah-sis-boom-bah Steve Rogers speechifying. Cap is supposed to be the best of all the things that make up America, not a skulking cold warrior.
Maybe it's just me.
The Stand - Soul Survivors #5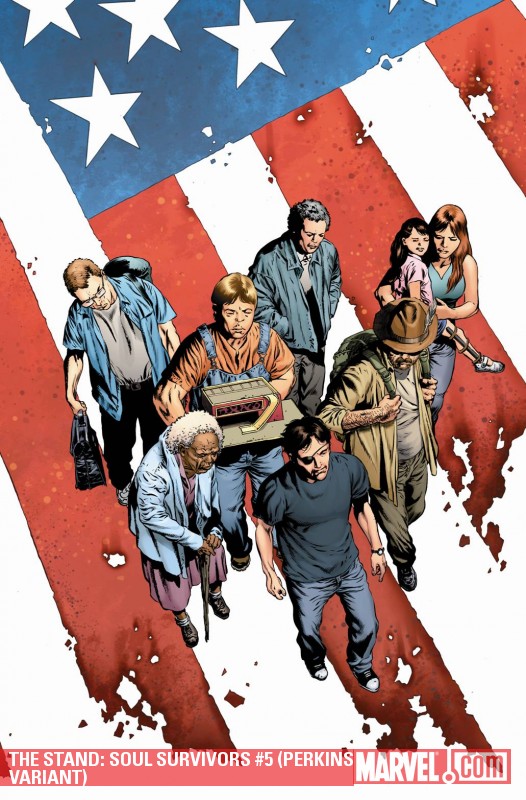 COVER BY: Mike Perkins
WRITER: Roberto Aguirre-Sacasa
PENCILS: Mike Perkins
Somehow, by luck and by pluck, Nick Andros led his group through the wilderness to Hemmingford House, the home of Mother Abagail. But they can't stay long, and an even more dangerous task awaits them: Seeking out and facing down Randall Flagg. In the midst of a crisis of faith, Nick makes a fateful choice that will forever change his life. Also: In a world without doctors, what happens when a member of Stu and Frannie's group requires an operation? Pick up a scalpel and say your prayers, True Believers, as the third volume of Stephen King's horror epic concludes!
I've grown to really enjoy this series or mini-series, adding up to a 30-issue adaptation of King's novel. It's very faithful to the source, so there are no surprises, but the art is beautiful. Plus, hey...Bruce Springsteen as Larry Underwood.
I say that with every issue, don't I?