A day late: Mea Culpa....I took a day off to work on lines for my show, and generally try to get my mind in order for the next couple weeks of theatre-intensive action. I tried to stay locked up in the bedroom as much as possible to just work the dialogue.
That said, I did actually pick up my books yesterday...I actually picked up my comics on New Comic Day...fancy that!


Batman #702
Written by GRANT MORRISON
Art and cover by TONY DANIEL
Grant Morrison and Tony Daniel continue their captivating untold tale of Bruce Wayne and his adventures between BATMAN R.I.P. and FINAL CRISIS! Discover the shocking secrets that point toward THE RETURN OF BRUCE WAYNE that we couldn't show you until now!
Interesting enough story, I guess...but I am dreading where these titles are going before the end of the year. With this
Batman, Inc.
series coming out, that appears to be about Batman franchising the cape and cowl around the world. I have to admit it sounds to me like the single dumbest idea, ever.
I think it's time for Morrison to step away from Batman...I really do.
Detective Comics #868
Written by DAVID HINE
Art by SCOTT MCDANIEL and ANDY OWENS
Cover by PETER NGUYEN
A warped variation of the Joker drug has caused those who use it to suffer mental breakdowns and embrace anarchy and chaos. With riots cropping up throughout Gotham City, the citizens find themselves divided into two gangs: one led by a Batman impostor whose mission is to bring law and order back to the streets, and the other led by a Joker impostor whose purpose is to punish the innocent and set Gotham ablaze. And in the middle of it all is The Dark Knight – but can Batman stop an entire city?
This is a decent story, an old-fashioned Batman crime tale, with a gang of Joker-impostors running wild. Well written, nice art. It's a good antidote to Morrison's high-concept mucking about. However, I do wish that they wouldn't double up the core Batman titles into one week.
Justice League of America #48
Written by JAMES ROBINSON
Art by MARK BAGLEY,
ROB HUNTER and NORM RAPMUND
Cover by MARK BAGLEY and JESUS MERINO
1:10 White Lantern Variant cover by RYAN SOOK,
FERNANDO PASARIN and JOEL GOMEZ
The BRIGHTEST DAY continues with a shocking connection to the White Light in part five of the JLA/JSA crossover!
It's the grand finale of this team-up, and it's chock-full of revelations as the greatest threat to the Earth may not be Alan Scott or the chaotic energy of the Starheart, but one of the other members!
Plus, don't miss the second feature starring Cyborg, whose goal of restoring Red Tornado's body becomes a battle to save the android's sanity as the madness of the Starheart engulfs them.
God. Please make it stop. I gave them until issue #50...things are not looking good.
Superman: Secret Origin #6 (of 6)
Written by GEOFF JOHNS
Art and cover by GARY FRANK and JON SIBAL
Variant cover by GARY FRANK
The reimagining of Superman's early days concludes as he faces his toughest foe yet – his childhood friend Lex Luthor! The victor will be Metropolis's hero. If you think you know how this plays out, then you underestimate how much Luthor wants that title…
I kept wondering if I had somehow missed the last issue of this series. Nope, just another annoying delay. Really, it's been since April 7th. That's when issue #5 of this "monthly" series was released. Over five months!
I'm quite fond of this series. I think Johns did a great job on the story, and Frank may be THE Superman artist right now. Although, his clear use of Christopher Reeve's likeness (I hope something's going to the Christopher Reeve Foundation for that) may be biasing me. It's a lovely final issue, it just took too long to get here. Honestly, I lay that more on the editors than anyone else. Unless Frank sustained a hand injury or something, the scheduling should've been thought out more.
Fill in artists are not a bad thing, and I think the publishers need to realize that again.
Captain America #609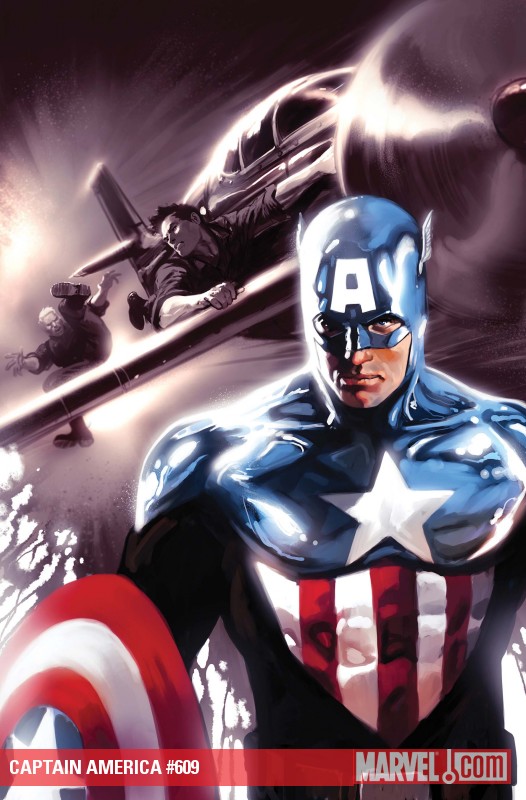 COVER BY: MARKO DJURDJEVIC
WRITER: ED BRUBAKER,
SEAN MCKEEVER
PENCILS: FILIPE DANIEL MORENO DE ANDRADE
MARKO DJURDJEVIC, BUTCH GUICE
INKS: FILIPE DANIEL, MORENO DE ANDRADE
RICHARD MAGYAR
COLORED BY: CHRISTOPHER SOTOMAYOR|DEAN V. WHITE
LETTERED BY: NEUROTIC CARTOONIST, INC|NEUROTIC CARTOONIST, INC
Bucky must return to the place where his life once ended as Baron Zemo continues to rip his life apart. It's the hardest hitting arc of Captain America ever by the awesome team of Ed Brubaker and Butch Guice.
Decent story. Well executed. When's Steve gonna be back in the costume? I mean, other than next summer, when the movie'll be out, and you KNOW Marvel can't pass that up.