It's a light week for me, thank God, because I haven't managed to get to my shop to pick up last weeks books yet. Since that was a pretty big week, this is a bit of a relief.
Booster Gold #35
Written by KEITH GIFFEN and J.M. DEMATTEIS
Art by CHRIS BATISTA and RICH PEROTTA
Cover by KEVIN MAGUIRE
Back in the past, Booster Gold is mistaken for himself and embarks on an untold journey in space with Blue Beetle to obtain a rare and secret artifact. Needless to say, their mission goes horribly, horribly wrong…
I love that this book is first on the list, because, as far as superhero fare, I will hazard to say this is the most fun I am having with a book right now. Giffen and DeMatteis re-visit the land of
Justice League International
, literally, using our time-traveling hero Booster Gold. It's sheer joy, funny and exciting in equal measure.
When I was at SDCC, I picked up three volumes of
Justice League International
trade paperbacks, mainly because this series has made me remember why I loved them so much. They also represent a sense of fun and truly unleashed imagination. Keith and J.M. just let themselves go with this stuff, crafting really entertaining reading on a monthly basis. They aren't worried about being the "coolest" thing on the market, only giving their readers a full $2.99 of fun and entertainment.
Dan Didio and Jim Lee ought to be looking at this sort of stuff, and, while not every series should be this goofy, it should be this much fun to read.
Ultimate Comics Spider-Man #13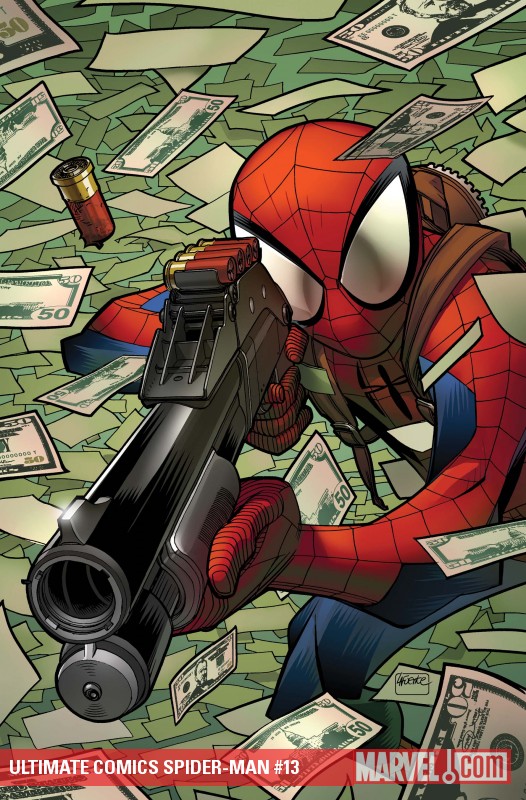 COVER BY: DAVID LAFUENTE GARCIA
WRITER: BRIAN MICHAEL BENDIS
PENCILS: DAVID LAFUENTE GARCIA
INKS: DAVID LAFUENTE GARCIA
COLORED BY: JAYPO LLC
LETTERED BY: NEUROTIC CARTOONIST, INC


There's no other way to say it: In this issue...Spider-Man's entire life is completely destroyed. Read the series that has fans and critics hooked as Brian Michael Bendis and David Lafuente rock out another unbelievable issue!
Here's another one. Brian Bendis, who in his SDCC panel told a aspiring writer that using his middle name made him sound like an "asshole, " and he regretted it, when working in the mainstream Marvel Universe, has kinda drank the kool-aid on the "coolness factor" as well. Thing is, out here in his little, Queens-centered, corner of the Marvel Ultimate Universe, he's just cranking out fun, entertaining stories.
The subject matter here probably is a factor. I don't think Bendis is really all that suited to the bombastic world of The Avengers. I think these little stories about teenagers dealing with superpowers, and life in general, is far more conducive to his impressive skill set. His Peter and MJ and Gwen, and the rest always feel like real kids, and, more importantly, real human beings. This series, and
Powers
, will be his masterpiece, I think.
MAYBE PICKING UP:
Superman #702
Written by J. MICHAEL STRACZYNSKI
Art by EDDY BARROWS and J.P. MAYER
Cover by JOHN CASSADAY
1:25 Variant cover by KEVIN NOWLAN
"Grounded" continues as Superman enters a small town in Ohio where, like many towns, a number of its residents are from other places. But when The Man of Steel discovers that there are also a number of residents secretly from other worlds, he unravels a mystery that may have grave consequences for Earth.
Wow, my morning Diet Mountain Dew was working well, until I saw that cover. What is the deal with dull-ass covers for this series? Look, I know everyone wants to draw an "iconic" Superman cover, but that doesn't mean stagnant. I like a dynamic cover, and I think most readers (and buyers) do too. I mean, Neal Adams can do both:
I mean how about something from the actual story? Y'know, it's not like it's just about Superman walking, or something...
Er. Well...
Look,
I got a good vibe from at least the last couple of pages of Superman #701
(my good buddy KenG, the biggest Superman fan I know, absolutely does not agree), so I thought I might give Straczynski a few issues to see what he's doing. I still kinda feel that way, but I can't quite get over the "12 issues of this?" feeling.
I want to like a Superman title, I want to be reading a Superman title, but I can't tell if this is the one. I can say in JMS' defense, he's not going for the "cool" here. This is a meditative story, and clearly he is trying to establish a connection with Superman as an idea, and the real world, both in and out of comics. I think that's a great goal, but I don't know if this is what's going to do it.
DROPPING:
Ultimate Comics Avengers 3 #1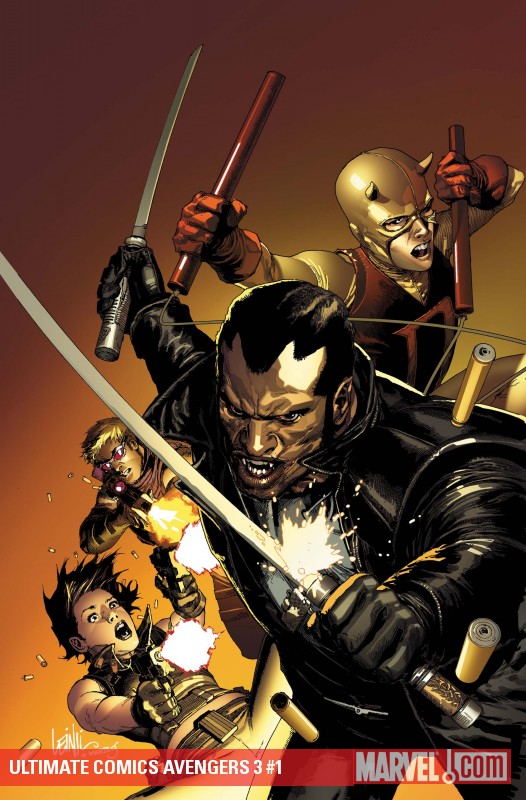 COVER BY: LEINIL FRANCIS YU
WRITER: MARK MILLAR
PENCILS: STEVE DILLON
INKS: ANDY LANNING
Blade is back in a bad way and that can only mean one thing: vampires are afoot! Somebody is leaving behind a bloody trail of bite marks and Blade's stake-ready to take them on. Could the mysterious figure donned in an iron suit have something to do with it? And who exactly is the new figure leaping around down in a devil costume? As the Avengers get deeper into black ops, there's no telling who'll be thirsting for blood and who'll be next on the menu! Bite into the next exhilarating series of ULTIMATE COMICS AVENGERS by superstar creators MARK MILLAR (CIVIL WAR, KICK-ASS) and STEVE DILLON (PUNISHERMAX)!
Oh, no...Millar, you are a cheap hack, and no tease of a "new Daredevil" is gonna get me to drop another $3.99 (yeah, no kidding...no back-up feature, or anything) on this garbage. Take some time off, count your movie money, and see if you can't come up with a story and characters that will make me care again.
ON THE PERSONAL SIDE:
When I pick up my books this week (likely Saturday), I'll be dropping off some copies of
Steel City Serenade
#0, by myself, Mark Pracht, and Zach Bosteel, at
Chicago Comics
for consignment sale. I'm thinking $1.50 for the 12-page zero issue. If you want to swing by and pick one up, please do.
It's also available digitally, for free, at the
Steel City Serenade

page
on
Zach's website
.