Fairly big week here....
Batman: Odyssey #2 (of 6)
Written by NEAL ADAMS
Art by NEAL ADAMS
1:25 Sketch variant cover by NEAL ADAMS


Neal Adams's ODYSSEY ramps up as The Caped Crusader slowly but surely loses control. A dark presence lurking in the background begins pulling Bruce's strings...who is responsible? This second chapter is a tour de force of action as the greatest crime fighter on earth displays his vicious combat skills. What else can you expect? Adams's art at its best!
I know a lot of the reviews on this have been...not great.
I kinda get that. this is a very, very 70's-style book, and I know a lot of the kids out there don't really "get" that. You have to read, you see, the text is as dense as Adams flat-out awesome artwork.
For myself, I'm loving every page. No, I don't quite get what's going on yet, and Adams' Batman seems to lean toward the Frank Miller A-Hole style, but the whole preview of issue #1, with a Batman wielding twin Colt automatics, played out in an extremely satisfying manner.
Do I wish Neal had rung up Denny O'Neil to do the dialogue? Sure, but, all on his own, Adams is bringing back the kind of comics I cut my teeth on, and I love it.

Brightest Day #7
Written by GEOFF JOHNS and PETER J. TOMASI
Art by IVAN REIS, PATRICK GLEASON, ARDIAN SYAF,
SCOTT CLARK and JOE PRADO
Cover by DAVID FINCH
1:10 White Lantern Variant covers by RYAN SOOK,
FERNANDO PASARIN and JOEL GOMEZ
Don't miss the hottest event in comics as BRIGHTEST DAY continues!
There can be only one who wields the White Lantern...but is it truly Deadman? And what will happen when he attempts to charge the white ring? Meanwhile, Ronnie Raymond risks everything for Firestorm, Martian Manhunter uncovers more clues about the bizarre string of murders stretching across the country, Aquaman searches for the key to the ocean's survival and the Hawks come face-to-face with the evil that lurks within the strange land known only as Hawkworld!
Ok, I think we've jumped the shark here. I still care what's going to happen, but it's really, really apparent this could've easily been a 4-issue series. Even bi-weekly, it's seemed to drone on and on, and on. Let's wrap this up, and put the events to bed for a while.
It's like I said in my
SDCC wrap-up blog, specifically about the DC Town Hall panel
(scroll down to the bottom), let's focus on the regular series for a while, and let "the universe" take care of itself. I could say it about both of the big two, but I am, finally, tired of having every monthly book tie into each other, and connect to some larger concept that never ends up as cool as you think it'll be.
I mean, does ANYONE really, really care about "The Heroic Age" or "Brightest Day" right now? Or are we just feeling like we HAVE to be interested, because of our love of the respective universes? The individual boos are starting to suffer, they don't feel like full stories, just snippits that don't seem to connect I mean...exactly how is the
Flash
series tying into any of this?
Give it a rest for a while, guys.


Jonah Hex #58
Written by JUSTIN GRAY and JIMMY PALMIOTTI
Art and cover by GIANCARLO CARACUZZO
When you live the kind of life that Jonah Hex has, you learn that every bullet tells a story. This is one of those stories – one of betrayal, violence and immeasurable greed! Featuring the art of rising star Giancarlo Caracuzzo (Cable)!
The absolute perfect cure for crossover-itis. This book, as I have said time and time, and time again, is damn near perfect. the done-in-one style provides so much freedom. Maybe a story won't pop like the creatives thought it might, or an artist doesn't quite mesh with the material...BAM! Another chance next month!
DC and Marvel ought to take a good long look at why this book is looked at so favorable by so many people. It's because it's a respite from the overwhelming baggage of continuity. Maybe it's not the greatest selling thing out there (certainly not for lack of me trying), but nobody knows who Hex is! (The movie certainly didn't help, but then, the movie wasn't REALLY Jonah Hex, now was it?) Try this format with Batman, or Green Lantern, and it will sell, and the work will be strong.

Red Robin #15
Written by FABIAN NICIEZA
Art and cover by MARCUS TO and RAY MCCARTHY
With Tim Drake targeted for assassination, will Red Robin have to eliminate his secret identity? Or is it all part of an elaborate ruse to draw out the lethal Egyptian assassin known as Scarab and get Vicki Vale off his trail?
Over here on the other hand, we have a book that's deeply rooted in continuity, but doesn't get bogged down in it. Why? Because, after a few false starts, they zeroed in on exactly what Tim Drake's place in the DCU and the Bat-verse would be, and they've left that area alone for him to play in. You can easily read Red Robin without the other Bat-books. If you do read the other books, it just fills in gaps. The creative team gives you a full story that is informed and deepened by what's happening in
Batman
or
Detective
(
Batman and Robin
is off in it's own little Morrison-world), but doesn't rely on them. A very solid read, month-in, month-out.

Captain America #608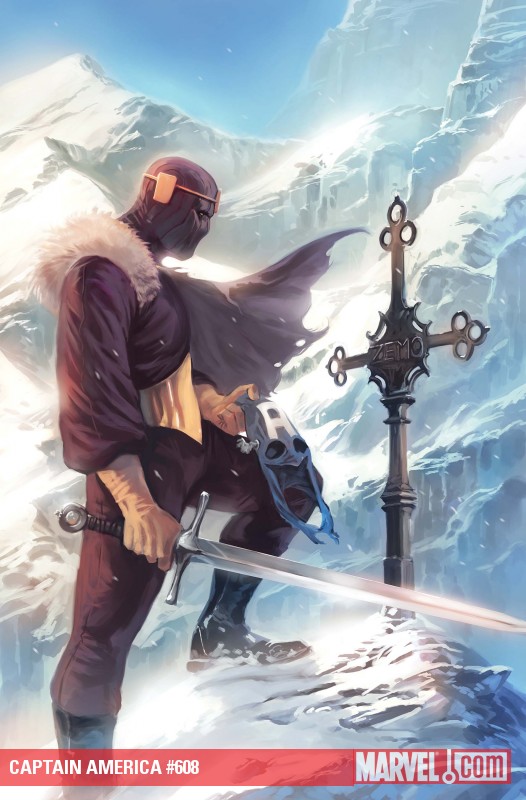 COVER BY: Marko Djurdjevic
WRITER: ED BRUBAKER/SEAN MCKEEVER
PENCILS: FILIPE DANIEL/MORENO DE ANDRADE/BUTCH GUICE
INKS: BUTCH GUICE
COLORED BY: DEAN V. WHITE
LETTERED BY: NEUROTIC CARTOONIST, INC|NEUROTIC CARTOONIST, INC
Baron Zemo takes his battle against the new Captain America to a new and terrifying level. And neither Bucky Barnes, or the readers will believe Zemo's last page revelation! By the senses-shattering team of Ed Brubaker and Butch Guice!
*sigh*
PUT STEVE ROGERS BACK IN THE SUIT!!!!
We all know you'll do it before next Summer, when that little movie comes out, so quit jerking us around. Although, I have to admit this whole current storyline feel like it might be leading to a bad end for Bucky Barnes. I mean, don't get me wrong, I like Bucky as a character, and as Cap he was interesting, but this has just gone on too long.


Ultimate Comics Avengers 2 #6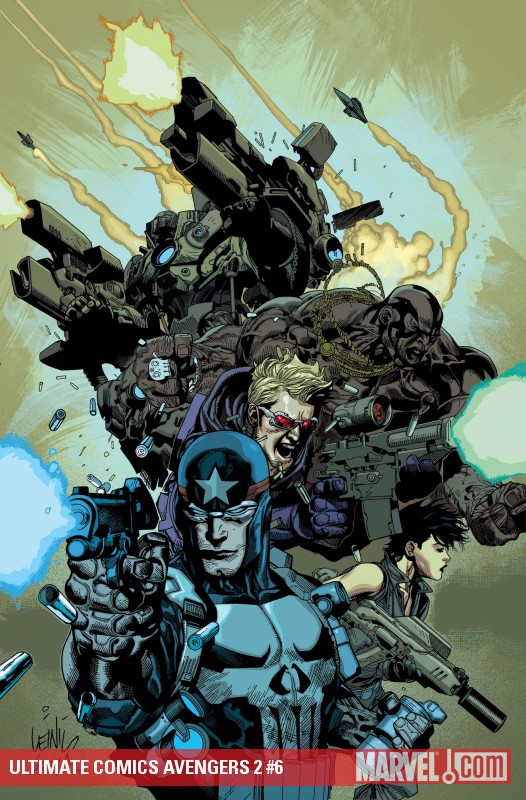 COVER BY: LEINIL FRANCIS YU
WRITER: MARK MILLAR
PENCILS: LEINIL FRANCIS YU
INKS: GERRY ALANGUILAN
COLORED BY: DAVE MCCAIG
LETTERED BY: NEUROTIC CARTOONIST, INC
ULTIMATE COMICS AVENGERS 2 #6 (of 6) Written by MARK MILLAR Pencils & Cover by LEINIL FRANCIS YU The Avengers are caught in the middle as Ghost Rider and the demonically powered Vice-President Blackthorne go head-to-flaming-head! What hope do Hawkeye, Punisher, and the new Hulk have against Satan's soldiers? Find out as best-selling creators MARK MILLAR (CIVIL WAR, KICK-ASS) and LEINIL FRANCIS YU (SECRET INVASION) bring this story to a fiery finish!
I'm finally ready to admit that I generally think Mark Millar is a hack. This series is completely boneheaded and makes zero impact on the reader. Hell, I thought it was only 4 issues long, because, well, the plotting never seems to indicate we're getting anywhere.
Y'know what I was saying in that SDCC blog about chasing the "cool," instead of just telling solid stories about heroism and playing your characters for all they're worth? Millar's the poster boy for the "cool" moment that ultimately, means bupkis. Vice-President Blackthorne erupting from the White House as an agent of Satan in issue #5 of this title? Cool, but ultimately empty, because, frankly...I don't care about anyone in the book. They're all blank tools to create "cool" moments, and nothing else.
He wrote the quite wonderful
Red Son
, and then just went on a spree of garbage (Although, I will admit a fondness for the first two
Ultimates
mini-series). The only question he seems to ask when working with established characters is "how much can I pull them into the mud?" and when doing creator-owned new work, "how fast can I sell this to Hollywood?" He's like a one-man crusade to make comics irrelevant, just a "idea shop" for movie producers.
I had a conversation with a creator, who recently moved his title to Image, a couple of years ago, and we were talking about the
Watchmen
movie. We were talking about the pros and cons of Zach Snyder's uber-literal (in my mind overly so) method of adapting the book to film. That led to talking about the sad fact that, to many "comic" fans today, nothing, no book, no graphic novel, really matters until they make it into a movie.
The medium of comics has just become a stepping stone to a "bigger and better deal." To me, Mark Millar is the personification of that mindset. Yeah, sure comics have become more recognized as a cultural force, but, seemingly, only as source material for a "real" art form like movies or TV.
Which is not to say I have a problem with selling rights to your concept to somebody with deep pockets. This particular creator had sold the movie rights for his own book, but it's also very, very clear that the book is his passion. He's not gonna stop doing it, he's not gonna hand it off to other and just cash checks. Selling the concept to Hollywood wasn't the end goal, it was a nice bonus.
When I pick up Millar's
Kick-Ass
, and I can see, from issue one, how it's just a pitch for a movie. I just get sad. Sad because this is a guy considered a "star" comic-book creator now, and I wish he'd just have more faith in the medium as an end unto itself.
I mean, ask yourself...do you think if Kick-Ass hadn't made it to film, we'd ever see a sequel? Even at that, I have my doubts. Was Millar's commitment to his characters, or his deal?