Look, I'm just gonna call off the review blog until after
The Copperhead
(less than a week from Opening Night!) is open. I mean, I just picked up my books for the last 2 weeks on Monday, haven't even cracked 'em, and now I'll have three more.
I WILL get back to it, have no fear, but I need to take that off the plate until the rest of my life slows down a bit. Hey, trust me, this isn't the only part of my life in a bit of a holding pattern. I keep trying to give myself times to work on music, and it just....slides by.
Previews this weekend, opening next Tuesday, and maybe back to a bit of normal.
Brightest Day #23
$2.99
Written by GEOFF JOHNS and PETER J. TOMASI
Art by IVAN REIS, PAT GLEASON, ARDIAN SYAF,
SCOTT CLARK and JOE PRADO
Cover by GARY FRANK
1:10 Variant Covers by IVAN REIS
It's the beginning of the end as we head toward the epic conclusion to BRIGHTEST DAY! The mystery of the heroes' return and the secrets of the white forest are revealed! Plus, Captain Boomerang draws closer to completing his mission! And at last, it's Firestorm vs. Deadman!
I'm gonna tell you what, the spoiler I read today for this series/event just pissed me off. It was the (supposed) identity of the White Lantern/guardian of Earth, and it was an established DC character, yes, but also one who hadn't, even tangentially, been related to this series, or
Blackest Night
, or really anything in the DCU for YEARS.
It's utterly annoying. It's been a year of following this set group of characters, and here we are with 4 issues (including this one) to go, and not only do I have absolutely ZERO sense of what the hell the point of this story was, but we're going to pull a rabbit out of the hat and drop in a new character too wrap the story up with.
Y'know what that says to me? that this "event" could've been 4 issues long.
Brightest Day
= Epic Fail, DC. EPIC.
Jonah Hex #66 $2.99
Written by JUSTIN GRAY & JIMMY PALMIOTTI
Art and cover by FIONA STAPLES
The people of Casket Canyon seemed so excited to have Jonah Hex for dinner. That's because he doesn't suspect that he's supposed to be the main course! With a horrific snowstorm brewing outside and hungry cannibals at the door, Jonah Hex finds himself with one foot in the grave and the other on the dining-room table. And if the cannibals don't kill him, the cold will! Featuring the work of up and coming artist Fiona Staples (NORTH 40)!
Oh, man...Look at that cover! That's fantastic.
Look, after thinking about
Brightest Day
, all I can think/say when
Jonah Hex
comes to mind is:
AAAAAAAAHHHHHHHHHHHH.....
Ultimate Comics Captain America #4
(of 4) $3.99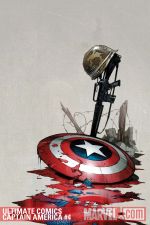 Writer: Jason Aaron
Penciller: Ron Garney
It's super-soldier versus super-soldier as Cap and Nuke throw down. With Captain America being pushed to his limits, there's no telling which soldier will come out standing. Superstar dream team of Jason Aaron and Ron Garney tell an explosive tale you won't be able to put down!
This series has really worked for me, but I have to admit, my enjoyment is based, in large part, on an expectation that Ultimate Cap's run-in with Nuke might re-direct him more toward the Steve Rogers of the mainstream Marvel Universe. I have to admit, I have grown weary of the "assholeification" of the Ultimate Marvel characters, and only Ultimate Spider-Man seems immune.
We'll see how Aaron wraps it up, the story could go either way for me, I think. Right at the end.