Hello, Kids...What do we have this week?
The Flash #3
Written by GEOFF JOHNS
Art and cover by FRANCIS MANAPUL
1:10 variant cover by GREG HORN
It may be BRIGHTEST DAY, but when a mysterious group of so-called heroes turns up, another Rogue ends up dead. Plus, the mystery deepends as The Flash witness another murder — his own!
The flash is my 3rd favorite superhero, right behind Batman and Spider-Man. It's also a character that's been a victim of mishandling more often in the last few years than I can count. I love Geoff Johns as a writer, and Manapul is obviously a talented artist.
So why am I already bored?
I'll tell you why. No matter how much nostalgia you wrap him in, Barry Allen just isn't as dynamic a character as former Kid Flash/former Flash Wally West. Look, DC, it's not like I'm gonna stop buying it, I have a full run going back many years. I even bought the crappy run where Bart (Impulse/Kid Flash) Allen was promoted to the top tier. Wally, however, was the character that made me love the Flash.
Wally got ran into the ground himself, with the perfect wife and kiddies, but the classic version of Wally, the young man who wasn't nearly as heroic as he was supposed to be. The Flash who was always contending with the memory of his mentor, Barry. That was dynamic, and it gave a lot of us a real psychological hook to bond us to him as a character. Compared to the "feet of clay" Wally, Barry just seems stiff and dull. The problem is, you've had the entire
Flash: Rebirth
mini-series and three issues of the regular series to get me invested, and you haven't.
I love this concept, I believe in Geoff Johns. Please get things turned around.
Green Lantern #55
Written by GEOFF JOHNS
Art and cover by DOUG MAHNKE & CHRISTIAN ALAMY
BRIGHTEST DAY marches on as the Main Man, Lobo, goes head-to-head with Red Lantern Atrocitus – with Hal Jordan caught in the middle! It doesn't get more brutal than this! Plus, Hector Hammond returns . . . to join the new Guardians?
On the other hand, everything's snapping right along with Green Lantern. Now we have a guest shot by...Lobo?
*sigh* couldn't we have left him in the 90's?
Justice League of America #46
Written by JAMES ROBINSON
Art by MARK BAGLEY & ROB HUNTER
Cover by MARK BAGLEY & JESUS MERINO


BRIGHTEST DAY continues with the start of an all-new, 5-part JLA/JSA crossover! The return of one hero heralds the release of the powerful Starheart that empowers Green Lantern Alan Scott. Now this chaotic force is unleashed on Earth, causing magic to go wild – and new metahumans to emerge! It's more than one super-team can handle, but can even the combined efforts of the Justice League and the Justice Society contain the light and dark power wielded by one of their own? Witness the transformation of the moon and a journey into the Shadow Lands that will corrupt a hero!
Continued in next month's JSA #41, this epic event features a 5-part connected cover spotlighting both teams in glorious action illustrated by Mark Bagley with inks by Jesus Merino!
This is the moment of truth with this series, for me. I dearly, dearly love Mark Bagley's art, but I'm giving Robinson this crossover (buying 2 issues of
Justice Society of America
, to boot) to snap things into shape. If it doesn't happen, I'm facing the real prospect of dropping a series drawn by Bagley, for the first time ever.
Captain America #607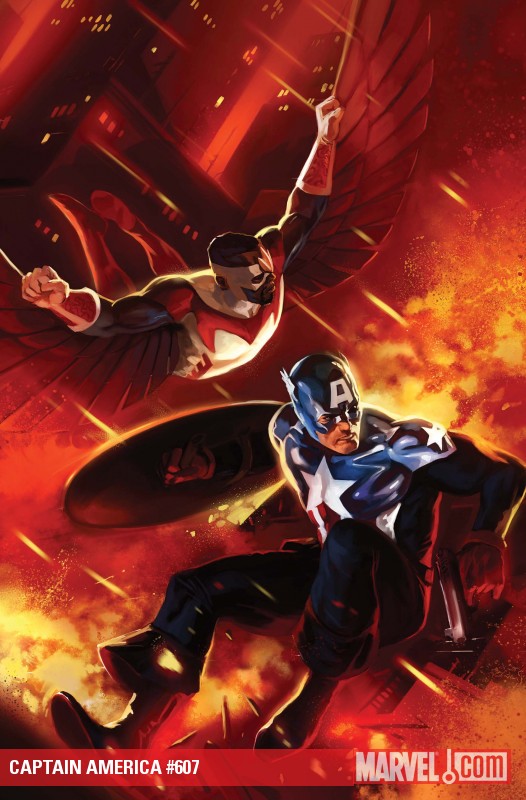 COVER BY: Marko Djurdjevic
WRITER: Ed Brubaker & Sean McKeever
PENCILS: David Baldeon & Butch Guice


THE HEROIC AGE IS HERE! Zemo and Bucky -- two characters linked through history whether they like it or not. And now Zemo has set his sights on Bucky and plans to destroy our new Captain America one step at a time. Part 2 of the senses-shattering "No Escape" arc will rock Bucky's world to the core!
Waiting...waiting...waiting...for Steve Rogers to be Captain America again. You can be damn sure it'll happen by next summer, when the movie comes out..."THE HEROIC AGE" is also continuing to be a non-starter, as far as making me care to pick up any more Marvel books.
Also, once again, I'm directing you to check out the
free digital issue #0 of
Steel City Serenade,
which I scripted. I'd love to hear feedback.