Oh, my aching wallet.
In an act of an idiot nature, I did not manage to get to my Local Comics Shop (LCS) ast week to pick up the (reasonable week of) 4 title. So, now I'm on the hook for those 4, plus the 6 from this week (including a rather expensive anniversary title.)
Batman #700
Written by GRANT MORRISON
Art by TONY DANIEL, ANDY KUBERT,
FRANK QUITELY, DAVID FINCH & RICHARD FRIEND
Cover by DAVID FINCH
1:25 "DC 75th Anniversary" variant cover by MIKE MIGNOLA
1:75 "DC 75th Anniversary" variant black and white cover by MIKE MIGNOLA
Grant Morrison returns to BATMAN with this oversized special! And he's brought an all-star roster of artists along with him including Andy Kubert, Tony Daniel and Frank Quitely to celebrate this milestone 700th issue featuring stories spotlighting each of the Batmen from different eras – Bruce Wayne, Dick Grayson and Damian Wayne. You won't want to miss this blockbuster story that paves the way for the return of Bruce Wayne and sports mind-boggling covers by superstars David Finch (BRIGHTEST DAY) and Mike Mignola (BATMAN: GOTHAM BY GASLIGHT, Hellboy)!
So, with Dick Grayson-as-Batman and
The Return of Bruce Wayne
in full swing, Grant Morrison returns to the eponymous Batman title to celebrate it's 700th issue. Promotion art indicates that the story will involve a case across time. With Bruce, Dick and Bruce's bastard son, Damian, all in the Batman costume, and making their way toward a solution. Could be interesting, or Morrison might spin out into some sort of retro-Silver Age weirdness. We shall see. Actually excited about this.
Booster Gold #33
Written by KEITH GIFFEN & J.M. DEMATTEIS
Art by CHRIS BATISTA
Cover by KEVIN MAGUIRE
The shocking events of JUSTICE LEAGUE: GENERATION LOST leave Booster Gold bloody and beaten, and the only way for him to put right what went wrong and save the people he loves is to travel back into the past. But what happens when Booster comes face-to-face with himself and Justice League International?
OK, so...Looking for that good old-timey Justice League International "BWA-HA-HA-HA!!" fix? Do not, under any circumstances, pick up Justice League: Generation Lost. Get this book instead. I'm really just putting my toe in the water with this issue, and the last, but Giffen and Dematteis did not let me down. I'll figure I'll stick with this as long as they do.
Jonah Hex #56
Written by JUSTIN GRAY & JIMMY PALMIOTTI
Art by PHIL WINSLADE & OTHERS
Cover by DARWYN COOKE
Timed to coincide with the upcoming JONAH HEX movie starring Josh Brolin and Megan Fox from Warner Bros., this issue is a special jumping-on point for new and old HEX fans alike! Learn Hex's savage origin and how love played a crucial hand in forming the hard-edged man he is today! And when an old Native American woman hires Hex to save her life, he assumes it's just a normal job – but it turns out to be one that will affect the course of American history! All this, plus a cover by the one and only Darwyn Cooke (NEW FRONTIER)!
OK, forget all the movie-hype here. (It's opening opposite
Toy Story 3
anyway, the writing is on the wall.) Look at that awesome Darwyn Cooke cover, and revel in the best western comic on the market. Over and over I'll say it, this is the most consistently great regular series either of the "Big Two" are putting out, and I might even say "any company, period." It's that good.
Captain America #606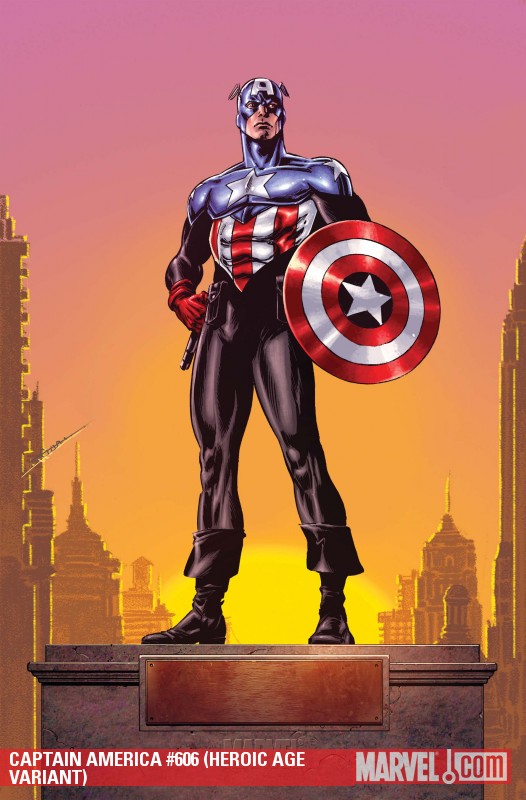 COVER BY: Butch Guice
WRITER: Ed Brubaker & Sean McKeever
PENCILS: David Baldeon & Butch Guice


THE HEROIC AGE IS HERE! Acclaimed artist Butch Guice joins award-winning writer Ed Brubaker as the summer begins with a blast from the past! Zemo returns to finish the job his father started -- Killing Bucky!
Wanna know how to alienate this reader? Have the shipping schedule be as weird as it has been for this title. Then pull a "bait-and-switch" with the rebirth of the title character. I'm sticking it out, for now, because Brubaker is telling good stories, but, man...Steve Rogers is back from the dead. Why isn't he in the suit?
Oh, and blah, blah, HEROIC AGE, blah, blah...
Ultimate Comics Avengers 2 #3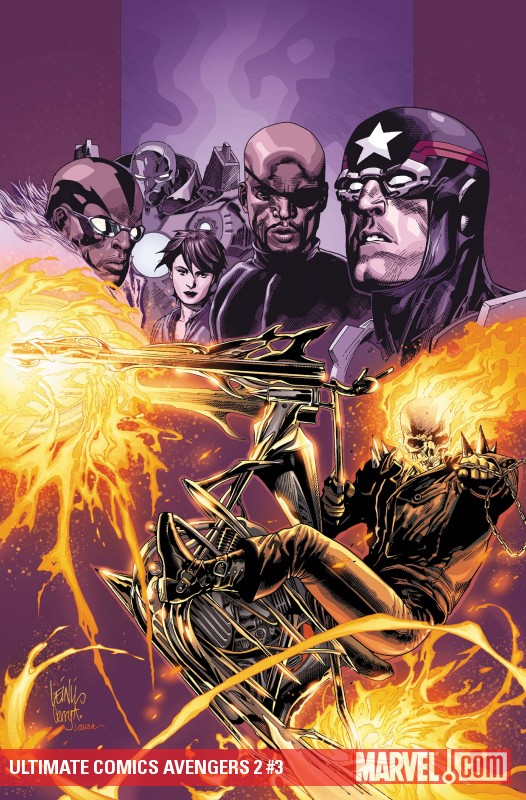 COVER BY: Leinil Francis Yu
WRITER: Mark Millar
PENCILS: Leinil Francis Yu
INKS: Gerry Alanguilan
COLORED BY: Laura Martin
LETTERED BY: VC - Cory Petit
Nick Fury's Avengers have assembled: Black Widow, The Punisher, a new Hulk, War Machine and Hawkeye are souped-up and ready to face Hell…literally. Evil's emissary comes in the form of The Ghostrider, a mysterious new villain sent to collect Satan's debts: human lives. But how do you fight the devil and his men? With big guns and even bigger cojones. Who lives, who survives? Who knows? But it'll be one hellish ride!! Join superstars MARK MILLAR and LEINIL FRANCIS YU in another heart-pumping adventure!
**YAWN**
I am so tempted to drop this. They're hunting Ghost Rider? Big friggin' whoop.
Ultimate Comics Spider-Man #11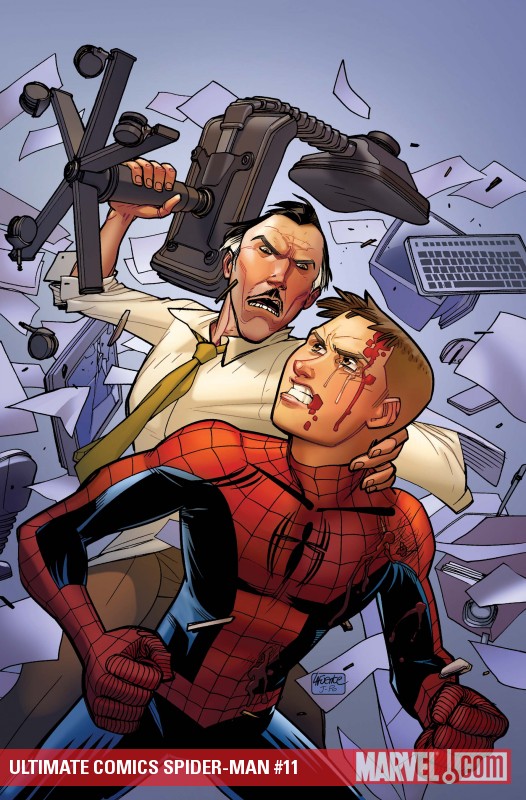 COVER BY: DAVID LAFUENTE
WRITER: Brian Michael Bendis
PENCILS: DAVID LAFUENTE
INKS: David Lafuente Garcia
COLORED BY: Justin Ponsor
LETTERED BY: VC - Cory Petit
After the shocking drama surrounding Kitty Pryde is exposed, an edict is made: "No more super heroes!!" Will Peter and his friends be able to keep the costumes off?? Especially when J. Jonah Jameson reveals himself to be the biggest threat Spidey has faced in years? Looking for a Spidey adventure you've never seen before? Look no further as Eisner-nominated writer Brian Michael Bendis and fan-favorite artist David Lafuente, bring you another blockbuster story!
I have total faith in Brian Michael Bendis on this title. Total. Faith. This is the jewel in Marvel's crown right now. I do, however, still miss Mark Bagley on this title.