Day late for the holiday, I'm just getting tomorrow's blog out of the way today, and a nice, small week for my pocketbook.
Serenity: Float Out #1 (one shot)
Writer: Patton Oswalt
Artist: Patric Reynolds
Colorist: Dave Stewart
Cover Artist: Frank Stockton
Acclaimed writer/actor/comedian Patton Oswalt (The Goon, Batman, JLA, Dollhouse, Ratatouille) brings back one of Firefly's most beloved characters in this special spotlight issue!
Always ready with a brilliant aerial maneuver and a terrible one-liner, Wash was pilot of the Firefly-class ship Serenity in Joss Whedon's cult-classic TV series before being killed in the movie. Float Out includes three brand-new stories of Wash in a series of exciting smuggling raids, each providing a hair-raising escape or daring last-minute rescue! Featuring a cameo that will leave Serenity fans reeling, this special one-shot presents new tales of the Serenity universe's past and tantalizing hints about its future!
I'm actually befuddled as to why there haven't been more
Serenity
/
Firefly
comics. It seems like such a natural fit, and with the series well and truly dead, there's no reason not to let these characters play. The show has a rabid fanbase that will buy anything.
Interested to see how Patton Oswalt handles the writing.
Brightest Day #3 (of 4)
Written by GEOFF JOHNS & PETER J. TOMASI
Art by IVAN REIS, PAT GLEASON,
ARDIAN SYAF, SCOTT CLARK & JOE PRADO
Covers by DAVID FINCH
1:25 variant covers by IVAN REIS & OCLAIR ALBERT
If this is the BRIGHTEST DAY then what is Black Lantern Firestorm doing on our cover?!
But...Black Lantern Firestorm isn't....
Oh, never mind.
Red Robin #13
Written by FABIAN NICIEZA
Art and cover by MARCUS TO & RAY MCCARTHY
Fabian Nicieza joins RED ROBIN as the new regular writer! A surge of organized mobs spreads across Gotham City like a virus! Who are The Socials and what is their mysterious agenda in moving young people across the city in self-organizing crowds? Is it mind-control or simply youth boredom? What starts as fun and games becomes deadly serious and leads to an unexpected confrontation between Red Robin and Robin!
New creative team, and a new direction. Now that we know Bruce Wayne is on his way back, I really don't want to see this solid book slide into irrelevance. They need to act quickly to give Tim Drake a new mission and reason for being Red Robin, and quickly.
The Stand: Hardcases #1 (of 5)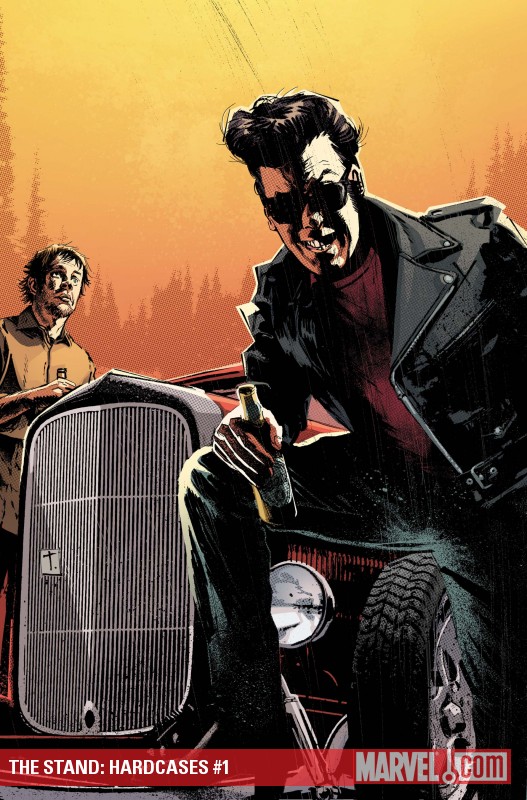 COVER BY: Tomm Coker
WRITER: Roberto Aguirre-Sacasa
PENCILS: Mike Perkins
The Trashcan Man was spared for a reason. To join the Dark Man Randall Flagg's swelling army and to set the world on fire. It's a dream come true for the pyromaniac, but he has to reach Flagg's compound in Las Vegas first--and, somehow, survive crossing paths with "the Kid," a hardcase who's even crazier and more dangerous than Trashy is! The villains are front-and-center as we cross the mid-point of this epic adaptation of Stephen King's horror masterpiece!
And so begins the...third? Miniseries of the six that will make up the full adaptation of Stephen King's
The Stand
. I'm a fan of the novel, which never read as "horror" to me. It's an epic tale of adventure, faith and survival. Of course, there are horrific elements, don't get me wrong, and the comic doesn't shy away from them. If you enjoy this book, the comics are a faithful, interesting adaptation. Worth checking out.