Let's just get to it.
I'm not going to be commenting today, other than to say that this Chameleons storyline in
Ultimate Comics Spider-Man
is top-notch stuff. Bendis is kicking ass and taking names, and throwing everything you think you know about how Spider-Man stories are supposed to work out the window. It's great.
Batman: Streets of Gotham #16
Written by PAUL DINI
Co-feature written by IVAN BRANDON
Art by DUSTIN NGUYEN & DEREK FRIDOLFS
Co-feature art by RAMON BACHS & JOHN LUCAS
Cover by DUSTIN NGUYEN
With Bruce Wayne soon to return to Gotham City, the secret past lives of his parents, Thomas and Martha, have come back to haunt the family legacy in chapter three of this 6-part sequel to "Heart of Hush"! What bizarre experience in their past is connected to a horrible plan that Tommy Elliot has set in motion?
And in the co-feature, Two-Face's desperate grab at power continues as he and his gang hold an entire subway train hostage! But how could he possibly escape capture with the FBI waiting for him at the next stop?
The Flash #5
Written by GEOFF JOHNS
Art and cover by FRANCIS MANAPUL
1:10 White Lantern Variant cover by RYAN SOOK,
FERNANDO PASARIN and JOEL GOMEZ
BRIGHTEST DAY continues with a shocking connection to the White Light as Captain Boomerang and the Reverse-Flash experience a bizarre event that ties them together. Meanwhile, it's the Rogues vs. the Renegades with The Flash caught in the middle!


Justice League of America #49
Written by JAMES ROBINSON
Art by POW RODRIX
Cover by MARK BAGLEY & ROB HUNTER
1:10 Variant cover by FRANCIS MANAPUL
The BRIGHTEST DAY shines a spotlight on Jade as she adjusts to the repercussions of the JLA/JSA crossover. She and Donna Troy head to the San Francisco Bay area to make themselves a new home but are confronted with old and new threats – including the New Teen Titans!
The Spirit #6
Written by DAVID HINE
Co-feature written by BRIAN AZZARELLO
Art by MORITAT
Co-feature art by EDUARDO RISSO
Cover by LADRÖNN


The dealers of Central City's most dangerous new high, Frost, don't follow the rules of the game… and when innocent children are taken hostage, it's The Spirit who has to jump into hot water to save them. Did we say hot water? We meant burning, molten steel!


And in the SPIRIT: BLACK & WHITE co-feature, FIRST WAVE mastermind Brian Azzarello rejoins his 100 BULLETS collaborator Eduardo Risso to bring you "The Man I Love," a knockout story starring Ebony as you've never seen her... heartbroken and vulnerable!


Ultimate Comics Spider-Man #14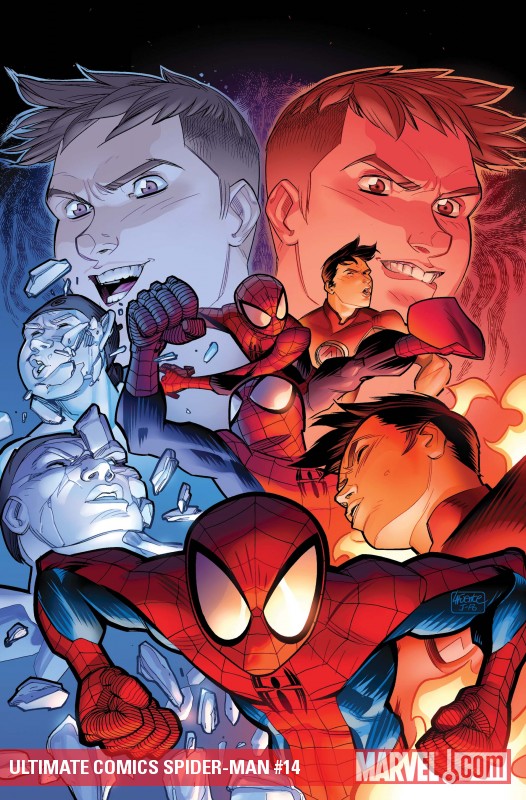 COVER BY: DAVID LAFUENTE GARCIA
WRITER: BRIAN MICHAEL BENDIS
PENCILS: DAVID LAFUENTEDAVID LAFUENTE
INKS: DAVID LAFUENTE GARCIA
COLORED BY: JAYPO LLC
LETTERED BY: NEUROTIC CARTOONIST, INC
The Chameleons have done as much damage to the world of Spider-Man and Peter Parker that could possibly be done. They have ruined him. Will his friends come to Peter's aid or will they gang up to bring him down? Brian Bendis and David Lafuente pull out all the stops and deliver a finale like you've never seen!