I am what I call a "Ben Affleck Booster." I've never been as down on the guy as others seem to be at times, and I think he can be a fine actor. Y'know, maybe I relate to him, there are certain physical similarities.
Take, for example
Good Will Hunting
. The climax of that film is supposed to be the session between Matt Damon's Will and Robin William's Dr. Maguire. Y'know, the "it's not your fault" scene? It doesn't work that way, in fact, that scene kinda sucks. I actually love that movie, but that scene just bites.
The real climax comes when Will talks with his best friend, Chuckie, played by Affleck, and Chuckie explains why Will absolutely cannot walk away from the opportunities he's been handed. It's emotional and real, and Affleck absolutely crushes it. You remember;
No. No, no no no. Fuck you, you don't owe it to yourself man, you owe it to me. Cuz tomorrow I'm gonna wake up and I'll be 50, and I'll still be doin' this shit. And that's all right. That's fine. I mean, you're sittin' on a winnin' lottery ticket. And you're too much of a pussy to cash it in, and that's bullshit. 'Cause I'd do fuckin' anything to have what you got. So would any of these fuckin' guys. It'd be an insult to us if you're still here in 20 years. Hangin' around here is a fuckin' waste of your time.
Ben is not, and really never has been, a "bad" actor. He's made horrendously bad choices. That I don't deny. He's at his best when playing guys who are morally flawed. If you go back and look at the best of his filmography,
Chasing Amy
,
Boiler Room
,
Changing Lanes
, or
Hollywoodland
, these are all very, very solid performances. He's been damaged on so many levels by bad role choices,
Daredevil
,
Gigli
,
Paycheck
(why anyone would take that film, I don't know...the snarky bad reviews just write themselves), the glorious stupidity of
Pearl Harbor
, and by bad personal choices, aka, the "J. Lo thing."
The guy was smart enough to, after a long string of bad PR, just lie low, enter into what looks to be a decent Hollywood marriage, and bide his time. When he came back, it was strong work, the aforementioned
Hollywoodland
, and by turning director. In 2007 he co-wrote and directed
Gone, Baby, Gone
, a really, really solid adaptation of
Dennis Lehane's novel
.
A few weeks ago his follow-up film,
The Town
, was released. If you follow that link, you can see that the critical response has been pretty solidly favorable. 94% on the Tomatometer.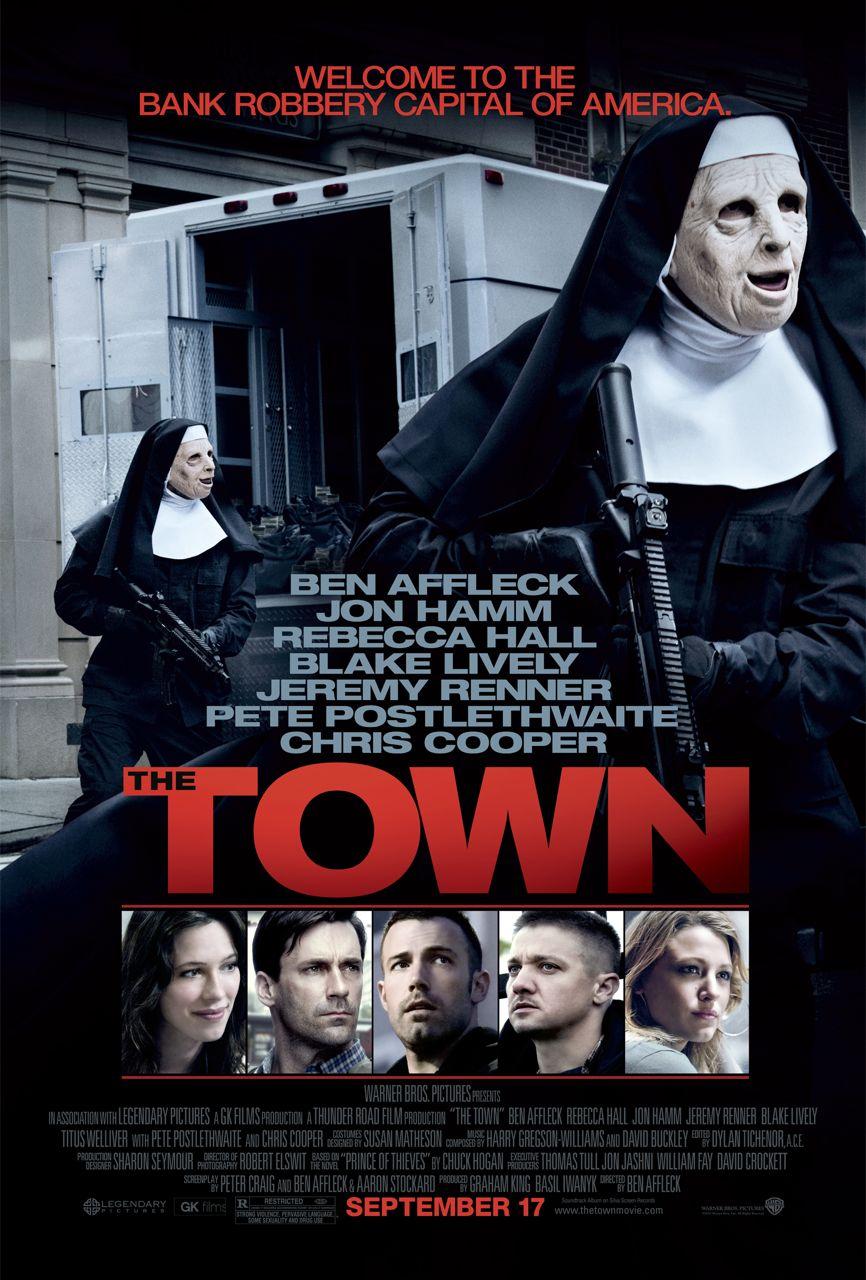 Once again, Affleck serves as co-writer and director, but this time also steps in front of the camera. The short form of my reaction after seeing the film last night is that Affleck has, once again, crafted an extremely solid crime thriller. The script is what you'd expect, no one's re-inventing the wheel, but Affleck shoots it very effectively, and has assembled a crackerjack cast.
There's relatively little fat on the script. There's a tendency to allow each character to have a "this is who I am" monologue, but the pacing is such that you really don't get bogged down in it. You can also say that Blake Lively's character of Krista, ultimately, really only serves as a plot element, but, when it comes down to it, if those are the worst things you can say about a script, you're landing on far more good than ill. Plus, the screenplay is adapted from the novel
Prince of Thieves
by Chuck Hogan, and, since I've not read it, who knows how much came from the source material?
As with most films in this genre, the action really spins around the male cast. The three leads are John Hamm (Mad Men) as F.B.I. agent Frawley, Jeremy Renner (The Hurt Locker) as James "Jem" Coughlin, and Affleck himself as Doug MacRay. The film effectively sets up a cat and mouse game with Frawley hard on the heels of MacRay and Jem's team of bank robbers. We open with a robbery that results in the kidnapping of the bank manager, Claire Keesey, played by Rebecca Hall. MacRay, the cool-headed leader, ultimately sets her loose after they escape, over Jem's objections.
During the film several plates are kept spinning. Will MacRay and his team slip up, and bring Frawley down upon them? Will Jem ultimately kill Claire, which he's all too ready and capable of doing? What will happen between MacRay and Claire? This is, admittedly, fairly standard crime thriller fodder, but as with most genre movies, the difference comes down to the effectiveness for the presentation. The Town is well made and well acted, by the time Chris Cooper appears in a brief scene as MacRay's father, you know that somebody spent the time to find the right people to fill these roles.
Based on the critical reaction, the skill on display, and the now 10-film field for Best Picture nominees, I don't think the buzz about The Town getting a nomination is unfounded. It won't win, but it's a really, really solid piece of Hollywood filmmaking, and Ben Affleck has proven himself to be a director to keep an eye on. I think I liked Gone, Baby, Gone slightly more than The Town, but both films are made with enough skill to prove that Affleck is no fluke behind the camera.
Definitely worth seeing.