A new series I'm most definitely interested in, but not entirely sold on, this week. A new series I've been very excited for, and a new crossover event begins. (Or, it began at the end of the LAST crossover event, you could argue.)
Batman #698
Written by Tony Daniel
Art by Guillem March
Cover by Tony Daniel
Only two months until BATMAN #700! As the landmark issue nears, Dick Grayson's life as The Dark Knight heats up in a big way. With Black Mask out of the way for good, the Falcone crime family attempts to fill that void – with no regard for the safety of Gotham City's citizens! And what's going on with the Riddler?
Sounds like another great Tony Daniel issue. I am becoming very curious about how The Riddler will be developing as we head toward the Return of Bruce Wayne story arc.
Brightest Day #0
Written by Geoff Johns and Peter J. Tomasi
Art by Fernando Pasarin
Cover by David Finch
1:50 Variant cover by Ivan Reis
The biggest event in comics continues as BRIGHTEST DAY burns back the BLACKEST NIGHT from the writing team behind GREEN LANTERN and GREEN LANTERN CORPS – Geoff Johns and Peter J. Tomasi! And don't miss the exciting DC Comics debut of red hot cover artist David Finch (New Avengers, Ultimatum)! The effects that the already classic BLACKEST NIGHT will have on the DC Universe will be felt for years to come and this issue not only sets the stage for the new ongoing biweekly DC Universe book BRIGHTEST DAY, but also the next exciting era of the DC Universe!
As much as I was ready for
Blackest Night
to wrap up, and for Johns to move on to phase 2 of this process, I gotta admit, I could've used a breather between these two series. I realize that this even spins directly from the last one, the events kinda demand immediate exploration, but, at $3.99 a shot, I think a month off would be nice.


Doc Savage #1
Written by Paul Malmont
Co-feature written by Jason Starr
Art by Howard Porter and Art Thibert
Co-feature art by Scott Hampton
Cover by J.G. Jones
1:10 variant cover by John Cassaday


The Man of Bronze in his own series at last! Doc Savage is the target of a brazen attack on New York City! Tragedy will strike one of Doc's compatriots, and someone may not survive the opening pages of "The Lord of Lightning!" Written by Paul Malmont, national best-selling author of The Chinatown Death-Cloud Peril, with art by Howard Porter (JLA)!
And don't miss the hard-hitting JUSTICE, INC. co-feature, starring Richard Benson, the Avenger! When criminals abduct one of his own detectives, Benson's icy heart sears with a rage hotter than any he's ever known. "Worst Nightmare" begins here, written by crime novelist Jason Starr (THE CHILL) with art by Scott Hampton (LUCIFER)!
I love the concept of this new DC "First Wave" line, bringing together the DC-licensed/owned "pulp fiction"-style characters in a shared universe outside of mainstream DC continuity. I'm, without a doubt, on board with the new
Spirit
series (though I cannot imagine it'll even brush the greatness of Darwyn Cooke's revival series...sheer brilliance), as I am a big fan of Wil Eisner's creation. I also like how they're working an alternate Batman into the line, as Bruce Wayne does share many traits with traditional Pulp characters.
Than said, I've never been a huge Doc Savage fan. To give the first issue a shot, or no...that is the question.
Flash #1
Written by Geoff Johns
Art, cover and 1:100 variant cover by Francis Manapul
1:25 Variant cover by Tony Harris
A BRIGHTEST DAY tie-in! Get in on the ground floor of DC's next epic in the making! The Flash races out of BLACKEST NIGHT and into his own monthly title as the all-new adventures of The Fastest Man Alive start with "Case One: The Dastardly Death of the Rogues!" Barry Allen runs back to his life in Central City, but when one of the Rogues turns up murdered under mysterious circumstances, it's up to The Flash to not only solve this bizarre crime, but protect those that are still targeted by the elusive killer. Plus, don't miss a peek into the future of the Flash universe in this special, extra-sized starting point issue!
Ahh...The Flash is my 3rd favorite hero, ever. Something about the costume and the idea of speed as a power. (And, yes, The Flash beats Superman in a race) Now that that Flash:Rebirth and Blackest Night stuff is out of the way, I hope we can get down to business. Yes, it's Barry Allen, not former Kid-Flash Wally West, under the cowl, but I can tell Johns is invigorated by the new character to play with. I mean, I "grew up" with Wally as The Flash, and he, and his inferiority complex about Barry, will always be my touchstone to the character, but I'm interested to see how this all shakes out.
I do hope that $3.99 price tag is only for the giant-sized first issue, however.
Ultimate Comics Enemy #3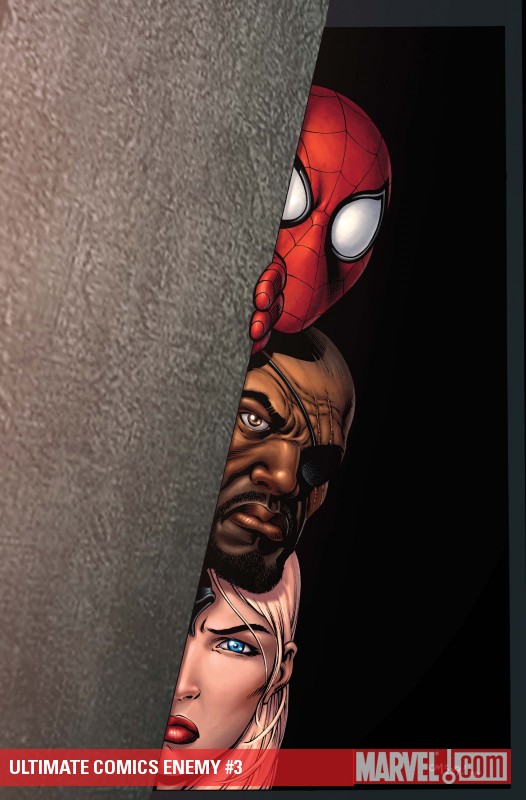 Cover by Ed McGuinness
Written by Brian Michael Bendis
Pencils by Peter Sanderson
Inks by Malcolm Davis
Colored by Peter Vale
The heroes of the Ultimate Universe are desperate to track down their collective enemy before he/she/it strikes again! This mystery is at the backbone of the Ultimate Universe and will have major ramifications on the future of the entire line. Ultimate Universe co-founder BRIAN MICHAEL BENDIS (ULTIMATE SPIDER-MAN) and rising star, RAFA SANDOVAL (AVENGERS: INITIATIVE) bring you one step closer to revealing the mystery of the ULTIMATE ENEMY!!
I bought the first two issues of this, mainly because of Bendis, and my undying love for his Ultimate Spider-Man work, but....Man, this series has been struggling to make me care. It's also promising to lead into several more mini-series, and I REALLY don't think I care enough for that.