After last week's $30 blast, it's a blissfully light week, and mostly Marvel, which is odd for me.
Detective Comics #864
Written by DAVID HINE
Co-feature written by GREG RUCKA
Art by JEREMY HAUN
Co-feature art by CULLY HAMNER
Cover by CLIFF CHIANG
The inmates of Arkham Asylum have taken over DETECTIVE COMICS in "Beneath the Mask" Part 1 of 2! It's Black Mask verses Jeremiah Arkham for control of the asylum. But what of the enigmatic Three Beauties, and how does Batman fit into the mad plan? Everything that was set up and teased in BATTLE FOR THE COWL: ARKHAM ASYLUM and ARKHAM REBORN is at last revealed, but the answers to the mysteries just might drive everyone – including Batman – mad!


Then, in the co-feature, the spotlight is shone on Renee's personal life. But just who knows about her secret identity, and what will they do with that information? That is the question...
I guess that's the end of Batwoman headlining
Detective Comics
. I was loving Rucka's work with the character, but I also think that maybe this was drawing to a close at the right time. We shall see what David Hine does with the material.
Captain America #605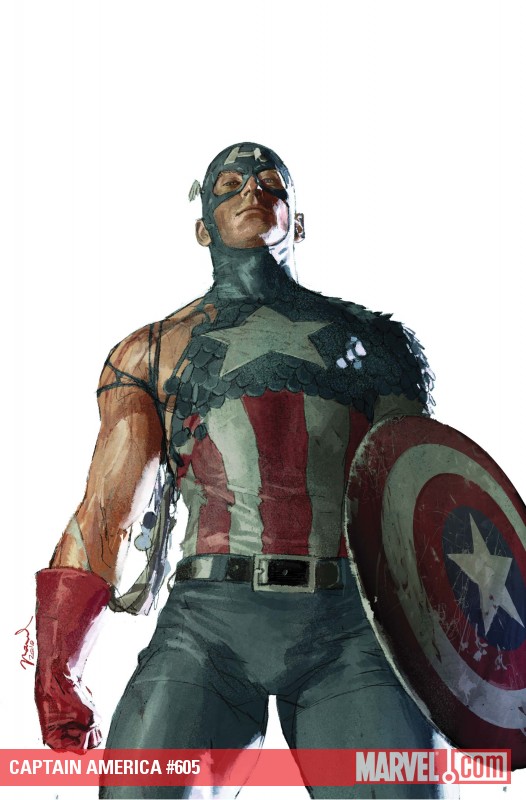 COVER BY: Gerald Parel
WRITER: Ed Brubaker/Sean Mckeever
PENCILS: David Baldeon/Luke Ross
INKS: Sno-Cone Studios, Ltd./Simone Peruzzi
COLORED BY: Joseph Clark/Simone Peruzzi
LETTERED BY: Keith Aiken/Jeromy Cox
The dramatic conclusion of "Two Americas" by acclaimed Cap scribe Ed Brubaker and Luke Ross. The final battle between two Captain Americas will leave each changed...and a new secret enemy will be revealed.
There's only one thing to say here...
When will Steve Rogers (it's just hit me just how great a hero name that is...almost as good as Steve Austin) be in the Captain America suit again? Bucky was a great placeholder, but he's feeling played out. It's also fair to say that DC handling this sort of story far better with Dick Grayson as Batman. I don't just keep waiting for the original guy (and the VASTLY superior original costume) to come back. OK, Marvel? He's back to life, stop jerking us around.
Ultimate Comics Avengers 2 #1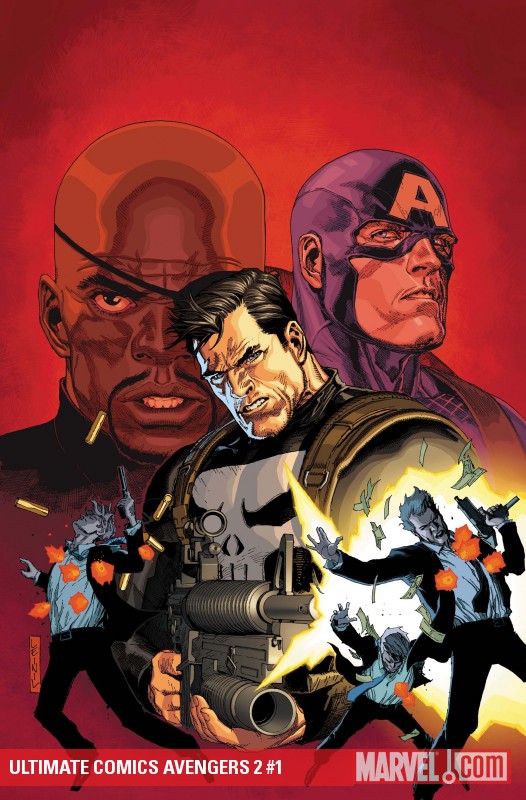 COVER BY: Leinil Francis Yu
WRITER: Gary Martin
PENCILS: Leinil Francis Yu
INKS: James Jean
COLORED BY: Arron Williams
LETTERED BY: Jared Fletcher
Some jobs are just too dirty for the Ultimates. For these, Nick Fury must gather the Avengers, a black ops team willing to do the missions that others won't. What role will an infamous mass killer play in Fury's plans? Find out here, as the Punisher returns to the Ultimate Universe! The blockbuster team of MARK MILLAR (ULTIMATES) and LEINIL FRANCIS YU (SECRET INVASION) presents the explosive beginning to ULTIMATE COMICS AVENGERS: CRIME AND PUNISHMENT.
Lord,
Ultimate Comics Avengers
just ended last week. So, yeah...it's on the pull list, but with the pretty weak wrap-up on the first series, this issue will have to be really damn good to get me to keep buying. At least it's a Punisher that's not some sort of half-assed Frankenstein monster riff.