So, this week has been a very lazy one for your friendly neighborhood blogger. Things have been busy, but I have a lot to write about.
Let's start with this week's books. Most are at the $3.99 price point this week...**sigh** As a twist for this week, the cover art will be part of my comments.
Batman: Streets of Gotham #12
Written by PAUL DINI
Co-feature written by MARC ANDREYKO
Art by DUSTIN NGUYEN and DEREK FRIDOLFS
Co-feature art by JEREMY HAUN
Cover by DUSTIN NGUYEN
Batman deals with the aftermath of Zsasz's crime wave when a new threat walks upon Gotham City's stage! And in the co-feature, an enemy Kate made in both the courtroom and on the streets of Gotham has decided to make his fight a little more personal…
That is a Badass cover, no doubt. Hats off to Mr. Nguyen. More solid bat-tales from Dini. I can't say I await new issues of this series with anticipation, but I'm usually not disappointed.
Brightest Day #2
Written by GEOFF JOHNS and PETER J. TOMASI
Art by IVAN REIS, PATRICK GLEASON, ARDIAN SYAF,
SCOTT CLARK and JOE PRADO
Covers by DAVID FINCH
Variant cover by IVAN REIS and OCLAIR ALBERT
BRIGHTEST DAY continues, but in ways you can't possibly expect! What does BRIGHTEST DAY mean to the DC Universe? Is everything from here on out going to be bright and shiny? No, BRIGHTEST DAY means something else entirely, something we can't tell you...yet. But we can tell you our heroes will need to rise up more than ever to combat the forces of evil, and a select few will uncover a secret that binds them ALL.
In the grand tradition of modern comic book storytelling...nothing much has happened so far in this series. I'm still hopeful, but y'know...I'm counting on you Geoff. Cover: Meh.
Justice League of America #45
Written by JAMES ROBINSON
Art and cover by MARK BAGLEY and ROB HUNTER
A BRIGHTEST DAY tie-in! Supergirl rejoins the JLA as incredible, ancient forces of chaos are unleashed. What could posses her and Power Girl to battle to the death? And what horrors await the rest of the Justice League and Justice Society in this prologue to "The Ghosts of Earth and Space"?!
I like how Mark Bagley draws women. So, this cover works for me. However, I've grown so disillusioned with this series, I'm actually entertaining the idea of dropping a Mark Bagley drawn series. I'm hanging on until issue #50, but, if things don't turn around...It may be over.
The Spirit #2
Written by MARK SCHULTZ
Co-feature written by HARLAN ELLISON
Art by MORITAT
Co-feature art by KYLE BAKER
Cover by LADRÖNN
In this second gripping issue, Angel Smerti is a lady who gets what she wants – and she wants The Spirit dead! The Spirit's first encounter with the Golden Tree crime organization will show him that the threat extends far beyond Central City! And in the co-feature, THE SPIRIT: BLACK and WHITE, modern fiction master Harlan Ellison teams with the brilliant Kyle Baker (WEDNESDAY COMICS) to bring an adventure right to the Spirit's backyard — Wildwood Cemetery!
OK, first, what a fantastic cover. Very classic Spirit image, as femme fatales were a bread and butter mainstay of Will Eisner's creation. I don't know who "Ladronn" is, but this is a really sharp image. Also very excited by the Harlan Ellison/Kyle Baker "Spirit:Black and White" back up feature. DC promised big-time creators for that feature, and they've delivered so far. Love me some Uncle Harlan, and Baker is a genius. The "First Wave" line has been pretty much a let-down for me, the
Doc Savage
book may be the worst thing published by the "big two" in the last few years, but the first issue of this series was pretty sharp. Better than the last Spirit series, at least after Darwyn Cooke left.
Ultimate Comics Avengers 2 #2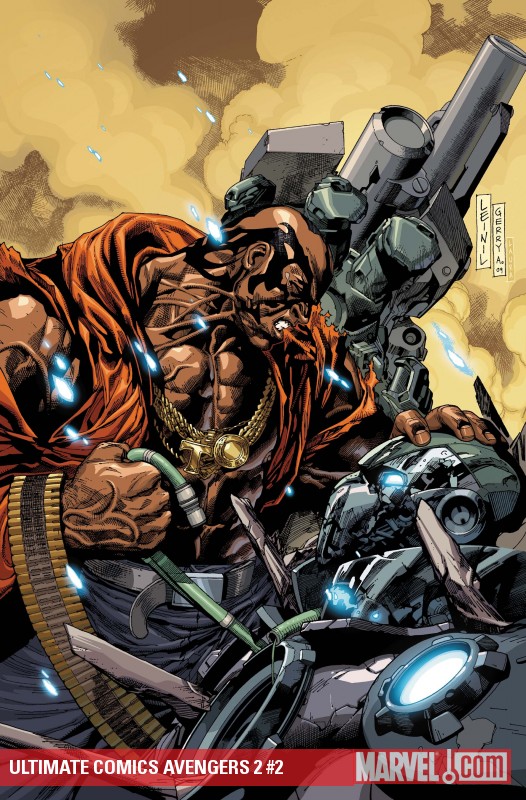 COVER BY: Leinil Francis Yu
WRITER: Mark Millar
PENCILS: Leinil Francis Yu
INKS: Gerry Alanguilan
COLORED BY: Laura Martin
LETTERED BY: VC - Cory Petit
The Avengers have their first mission: track and neutralize the Ghost Rider for good. But they need one more recruit to help them do the job…and he's not so cooperative. How do you put down a HULK? Chuck a few tons of metal at him! War Machine and the newest HULK go head-to-head and it gets explosive. Hotshot creators MARK MILLAR and LEINIL YU bring you the next blazing chapter of ULTIMATE COMICS AVENGERS: CRIME AND PUNISHMENT!
Cover; Bleech. I don't know if I'm going to get all the way through this series. The splash page, and costume change, that ended the last issue was a really bright spot, and spoke of many character possibilities, but....Mark Millar, I just don't trust you.