Middling week, volume-wise. One thing I do know, I will NOT be picking up
Doc Savage #2
. The first issue was simply awful, and not in a "first issue, finding the way" sense, but in a "this is not good" sense. I was pretty happy with
The Spirit
, however.
Here we go.
Batman #699
Written by TONY DANIEL
Art by GUILLEM MARCH
Cover by TONY DANIEL
Only one month until BATMAN #700! As the anniversary issue nears, Dick Grayson's life as the Dark Knight inches dangerously closer to the edge! With the Falcone crime family and The Riddler creating havoc in Gotham City, Batman is completely occupied with no idea what shocking surprise awaits him in the near future!
Sometimes it sneaks up on me how close we are to anniversary issues. Only one more month to
Batman #700
. As I've said on previous issues of this title, I'm generally happy with Daniel's storytelling, and, while it's not the best Batman book on the market, it's a solid read month-in, month-out.
Batman: The Return of Bruce Wayne #1 (of 6)
Written by GRANT MORRISON
Art by CHRIS SPROUSE
Covers by ANDY KUBERT
Variant cover by CHRIS SPROUSE
Sketch Variant cover by ANDY KUBERT
The most anticipated series of 2010 is here! Superstar writer Grant Morrison tackles his most ambitious project to date with THE RETURN OF BRUCE WAYNE, a special six-part series that chronicles the return of the original man behind Batman's cape and cowl! Each issue spans a different era of time and features the dynamic artwork of one of today's artistic juggernauts, starting with Chris Sprouse (TOM STRONG) on the extra-sized issue #1 and Frazer Irving (SEVEN SOLDIERS: KLARION) on the 40-page issue #2!
OK, so here we go....Grant Morrison "killed" him, now he's bringing him back. I have a confession, prior to the
Final Crisis
/
R.I.P.
removal of Bruce Wayne/handing the cowl to Dick Grayson, I had been less than impressed with Morrison's Batman work. His spacey, stream-of-consciousness work never really gibed with the gritty underbelly of Gotham City. Me, I like Batman (at least when Bruce Wayne is under the cowl) in gritty, neo-noir tales of crime, corruption and insanity.
By switching to Dick Grayson, I felt open to more light-hearted, wacky storytelling. Morrison's writing felt more right, and
Batman and Robin
has been a terrific series. With Bruce returning (although at least 6 months away), I fear when Wayne returns, the disconnect between creator and property will re-emerge.
Booster Gold #32
Written by KEITH GIFFEN and J.M. DEMATTEIS
Art by CHRIS BATISTA
Cover by KEVIN MAGUIRE
Just when things couldn't get any worse for our golden hero, fan-favorite JUSTICE LEAGUE INTERNATIONAL writers Keith Giffen and J.M. DeMatteis take over the ongoing writing chores of BOOSTER GOLD starting here! When someone from Booster's past resurfaces, Booster's life is turned upside down and inside out, and only a trip through the timestream can possibly set things straight.
I dropped this book with #12, mainly for financial reasons, but I have to give it another shot. The Giffen/DeMatteis team is responsible for one of the greatest series DC ever put out,
Justice League International
. Maybe I won't jump fully on board again, but I enjoyed that series so much (in which Booster was a regular), they deserve an issue to draw me in.
Flash #2
Written by GEOFF JOHNS
Art and cover by FRANCIS MANAPUL
Variant cover by RYAN SOOK


BRIGHTEST DAY shines its light on the continuing saga of Barry Allen – The Fastest Man Alive! The Flash continues his investigation into the "Dastardly Death of the Rogues" as the case takes a dramatic turn and Barry corners a suspect...and can't believe who it is!
I was so excited about the launch of this book. I gotta be honest, the sub-par
Flash:Rebirth
may have sucked the excitement out of me. However, I am a die-hard Flash and Geoff Johns fan...I need to give them a lotta room before I give up.
Justice League: Generation Lost #1
Written by KEITH GIFFEN and JUDD WINICK
Art by AARON LOPRESTI
Cover by TONY HARRIS
Variant cover by KEVIN MAGUIRE
Spinning out of BRIGHTEST DAY, DC's new biweekly event begins here! Someone is targeting the old members of the defunct Justice League International. Now, surviving members Booster Gold, Captain Atom, Fire and Ice have to figure out what unseen mastermind is threatening to destroy the entire Super Hero community! There are no gray areas here – it's black and white and red with blood all over for this lost generation of Super Heroes as original JUSTICE LEAGUE INTERNATIONAL writer Keith Giffen is joined by superstar scribe Judd Winick (BATMAN, GREEN ARROW) for a new era in excitement! And don't miss the monumental reteaming of Giffen and his former JLI writing partner J.M. DeMatteis on this month's BOOSTER GOLD #32!
As mentioned
Justice League International
was a gold-star series.
These bozos better not screw this up. Also....*psst!* We know who the "unseen mastermind" is, you showed is in
Brightest Day #1
.
Ultimate Comics Spider-Man #10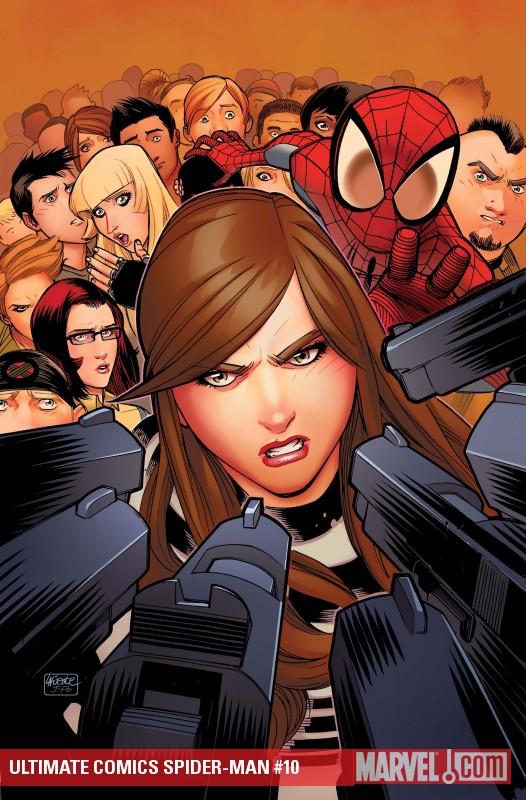 COVER BY: DAVID LAFUENTE
WRITER: Brian Michael Bendis
PENCILS: DAVID LAFUENTE
It's the end of the road for Miss Kitty Pryde as the law comes to Midtown High School to take her away. Will she go quietly into the night or will Peter Parker and his amazing friends come to her rescue? The answer will surprise you. Plus: the return of the Daily Bugle and J. Jonah Jameson, and the debut of an Ultimate villain that will take over Peter Parker's life in every way, shape and form. Don't miss the action as this fan favorite series kicks into high gear!
I could just tell you again that this is a really top-notch series, perhaps the best thing Marvel's publishing. I could, but why be a broken record?