Here we are with another edition of the day when my wife doesn't read my blog.
Decent-sized week, but not too bad overall, only 1 $3.99 book (thanks, Marvel.)
Batman and Robin #12
Written by GRANT MORRISON
Art by ANDY CLARKE and SCOTT HANNA
Cover by FRANK QUITELY
Variant cover by ANDY CLARKE
All is revealed in this final installment of "Batman vs. Robin" – the identity of the Domino Killer, the terrifying secret of the dominoes, and the shocking truth behind El Penitente! All of this, plus the surprising return of a fanfavorite character!
Return of a fanfavorite character?!?! Who could that be? WHO COULD THAT BE!?!!?
P.S. - This series is fantastic.
Brightest Day #1
Written by GEOFF JOHNS and PETER J. TOMASI
Art by IVAN REIS, PATRICK GLEASON, ARDIAN SYAF,
SCOTT CLARK and JOE PRADO
Covers by DAVID FINCH
Variant cover by IVAN REIS and OCLAIR ALBERT
BRIGHTEST DAY continues, but in ways you can't possibly expect! What does BRIGHTEST DAY mean to the DC Universe? Is everything from here on out going to be bright and shiny? No, BRIGHTEST DAY means something else entirely, something we can't tell you...yet. But we can tell you our heroes will need to rise up more than ever to combat the forces of evil, and a select few will uncover a secret that binds them ALL.
Brightest Day
begins...
Two comments: Holy moley, an event series for only $2.99 and issue?! I'm in love with DC right now. Second, I thought David Finch was the artist on this series, not just the cover artist?...I feel just slightly ripped off. Maybe he's just already behind, and they brought in 5 other artists to finish the book on time, when he only got the cover done...
Ah, I am so bitchy about artists from the 90's, aren't I?
Jonah Hex #55
Written by JUSTIN GRAY and JIMMY PALMIOTTI
Art by VICENTE ALCAZAR
Cover by WALTER SIMONSON
When you've lived the kind of life that Jonah Hex has, there isn't much that can unnerve you. So what is it about a kid named Billy Dynamite that has him so shook up? A tale of epic violence, fisticuffs, tragedy and, yes, dynamite, as illustrated by classic JONAH HEX artist Vicente Alcazar!
So, apparently the Josh Brolin-starring movie isn't impressing the preview audiences, and the movie's opening opposite
Toy Story 3
, so box office triumph isn't in the cards. (Although, I'm hearing Brolin is very good.) That said, I don't look to movie versions to justify the existence of a comic **cough*anythingwrittenbyMarkMillar*cough**, and this series is, flat out, one of the best on the market. Pick it up, you won't be disappointed.
Red Robin #12
Written by CHRISTOPHER YOST
Art and cover by MARCUS TO and RAY MCCARTHY
Every single moment of the last year has led to this fight between Red Robin and Ra's al Ghul. Who has Ra's been talking to all this time in the shadows? Why was Lucius Fox so desperate to find Tim Drake? And why was Tim so certain that Bruce Wayne is alive in issue #1? All questions are answered.
This is gonna be good.
Red Robin
has been the little series that could, it started out feeling a little odd, but then got right on the tracks, and now that tight plotting is gonna pay off. Good series, but very continuity-driven, so not for newbies.
Ultimate Comics New Ultimates #2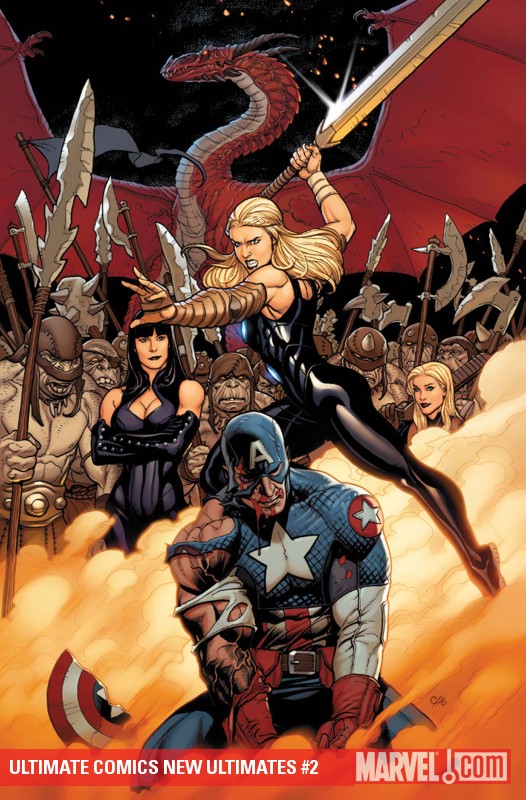 COVER BY: Frank Cho
WRITER: Jeph Loeb
PENCILS: Frank Cho
THE NEW ULTIMATES are here -- and just in time to take on LOKI and the hordes of ASGARD. But when Amora the Enchantress goes to work on the team, who will betray them? And what terrifying pact will Thor make with Hela to be reborn? All this and the superstar team of Jeph Loeb and Frank Cho (who is doing the work of his career!).
OK, so another alternate take on The Avengers, and once again...Let's fight Loki!! There are, literally, dozens of epic-level threats you could have a team like this deal with, and I'm really tired of them always going to the Norse Gods thing. Yes, I know Thor's on the team, but there's no need to center every story on him. It's only been two issues, so I'll give this a bit of breathing room, but both this series and
Ultimate Comics Avengers
just feel like they're slogging now. Brian Michael Bendis keeps popping home runs over in
Ultimate Comics Spider-Man
, why not order what he's drinking for a month or two?
Also on my mind with this issue...All 4 DC books this week are $2.99, and the Marvel book is $3.99. Yet, I hear tons of fanboy bitching about "DC jacking up prices." I don't get it, I don't. Every $3.99 DC book I've picked up has had an 8-page back-up feature, which, at least, gives me something for my extra buck. I can't say the same about Marvel.
All the Ultimate line books are $3.99, with standard 22-page stories. They also happen to be popular. In fact, it seems like all of Marvel's big sellers went up to that $3.99 price point.
Hmmm.....