Lord, Big week. Even with a "maybe" in there, it's a big week.
Batman: The Return of Bruce Wayne #2 (of 6)
Written by GRANT MORRISON
Art by FRAZER IRVING
Covers by ANDY KUBERT
Variant cover by FRAZER IRVING
The most anticipated series of 2010 is here! Superstar writer Grant Morrison tackles his most ambitious project to date with THE RETURN OF BRUCE WAYNE, a special six-part series that chronicles the return of the original man behind Batman's cape and cowl! Each issue spans a different era of time and features the dynamic artwork of one of today's artistic juggernauts, starting with Chris Sprouse (TOM STRONG) on the extra-sized issue #1 and Frazer Irving (SEVEN SOLDIERS: KLARION) on the 40-page issue #2!
Issue #1 was definitely interesting, and Chris Sprouse really nailed the art. Just beautiful stuff. If Morrison can keep his plotting up, this series will be a winner on all fronts, because the artist line up is without peer.
The Brave and the Bold #34
Written by J. MICHAEL STRACZYNSKI
Art and cover by JESUS SAIZ
Don't miss this first chapter of a most unexpected two-parter! This wouldn't be the first instance where the Legion of Super-Heroes have gone back in time looking to add to their ranks. But the sheer craziness the Doom Patrol will bring into their lives just might make that it the last time... and the Legion's mission will lead to some rather unexpected consequences next issue!
HA! Cool team-up. There's really nothing more you can ask for from a book with the proud
The Brave and the Bold
title. JMS has picked two teams that are always fun to play with. He's kept the series at a pretty high level, so I expect he'll play well.
Detective Comics #865
Written by DAVID HINE
Co-feature written by GREG RUCKA
Art by JEREMY HAUN
Co-feature art by CULLY HAMNER
Cover by CLIFF CHIANG
Batman spends the night in the bowels of Arkham Asylum attempting to uncover its mysteries. Plus, the horrifying fate of Black Mask is at last revealed! In the co-feature, The Question discovers the shocking true identity of the man responsible for the human trafficking and gunrunning.
Well, Batwoman is gone from this title, but Rucka's still working the Question back-up feature.
That kinda makes me sad.
Green Lantern #54
Written by GEOFF JOHNS
Art by DOUG MAHNKE and CHRISTIAN ALAMY
Cover by SHANE DAVIS and SANDRA HOPE
BRIGHTEST DAY shines its light on the "New Guardians" who have been forced to make Earth their new home! Why? You'll have to read it to believe it. While Hal is forced to deal with Larfleeze and his newfound appreciation for Earth culture, Sinestro uncovers the mystery behind Parallax's disappearance.
I'm only reading this book, not the sister Green Lantern Corps. I wonder if that's why it feels a little disjointed and random. I can only assume it's my fault, as Johns usually has things under control.
But I'm also a tiny bit pissed I gotta read another book for this to make sense.


Justice League; Generation Lost #2
Written by KEITH GIFFEN and JUDD WINICK
Art by JOE BENNETT
Cover by TONY HARRIS
Variant cover by KEVIN MAGUIRE
Spinning out of BRIGHTEST DAY, DC's new biweekly event begins here! Someone is targeting the old members of the defunct Justice League International. Now, surviving members Booster Gold, Captain Atom, Fire and Ice have to figure out what unseen mastermind is threatening to destroy the entire Super Hero community! There are no gray areas here – it's black and white and red with blood all over for this lost generation of Super Heroes as original JUSTICE LEAGUE INTERNATIONAL writer Keith Giffen is joined by superstar scribe Judd Winick (BATMAN, GREEN ARROW) for a new era in excitement! And don't miss the monumental reteaming of Giffen and his former JLI writing partner J.M. DeMatteis on this month's BOOSTER GOLD #32!
This is a "maybe" leaning more to "probably not."
Why?
Because this series was promoted as the return of the
Justice League International
, in all it's silly, gooftastic glory. It's not. This is a very serious story, which is fine, but
JLI
managed to tell serious-as-a-heart-attack tales, and still make time for goofy antics between the cast. That makes this series feel like a bait-and-switch. I'm sure Giffen has no interest in just repeating himself, but that doesn't wash because he and DeMatteis ARE repeating themselves over in
Booster Gold
.
So,I'm likely back on the bus with Booster, but this generation will remain lost.
Power Girl #12
Written by JIMMY PALMIOTTI and JUSTIN GRAY
Art and cover by AMANDA CONNER
All the pieces of the puzzle come together as Power Girl faces friend and foe in the no-holds-barred climax of the Ultra-Humanite's mad grab for control of Earth!
Holy crap! A one-sentence comic blurb?!?! No crossovers? No continuity to try to explain?
This book will go on, but I'm not going with it. This creative team made this book for me, and, as this is their last issue, it unmade it for me as well. I wish the new team well, but I KNOW they won't pull off what Palmiott, Gray and Conner did with a smile. I'll miss you Karen Starr, but I have a feeling it won't really be you anymore, anyway.


Ultimate Comics Enemy #4 (of 4)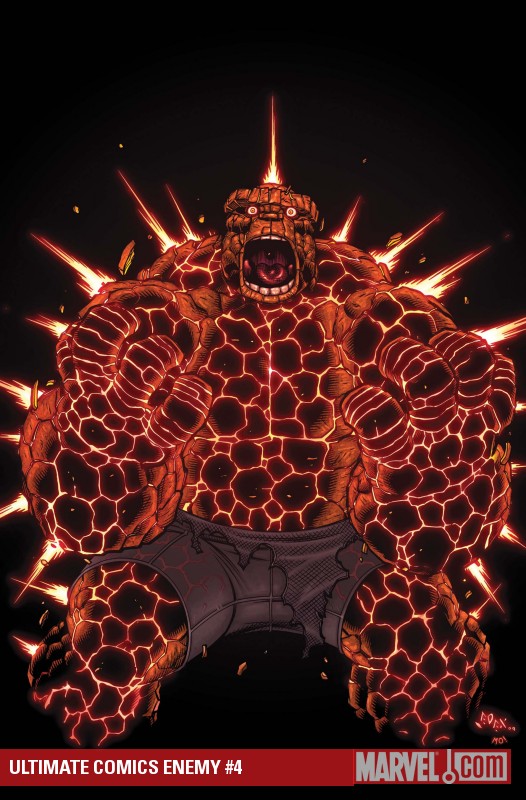 COVER BY: Ed McGuinness
WRITER: Brian Michael Bendis
PENCILS: Rafa Sandoval
INKS: Paul Tutrone
COLORED BY: Alberto Saichann
The heroes and Nick Fury make an uneasy alliance to hunt the mysterious enemy that has ruined their lives and murdered their friends. It's a team-up like you've never seen before as Spider-Man and his truly amazing friends must go undercover to try to do what the U.S. government refuses to do. All this plus Ben Grimm makes an amazing transformation unlike anything you can imagine! Comic book sensations BRIAN MICHAEL BENDIS and RAFA SANDOVAL bring you the shocking conclusion to part one of the Ultimate Enemy trilogy!
I bought the other 3 issues. Might as well finish it.